Bed in a Box® Eco-Lux Mattress Memory Mattress Review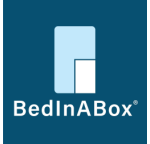 Have you heard of BedinaBox®? I know that we all use the term "bed in a box" in a generic way, but it's actually the name of a company. Like we call all facial tissue Kleenex, it's a copyrighted brand.
And, if you buy a Bed in a Box mattress, use code UNBOX25 for $25 off a mattress or bundle.
They recently sent me their "green mattress" called Eco Lux to review. In this review, I'll go over the unique things about this all-foam mattress.
I like that Bed in a Box is made in the USA with good-quality foam. We may earn a commission when you shop through our links, and you may get better sleep.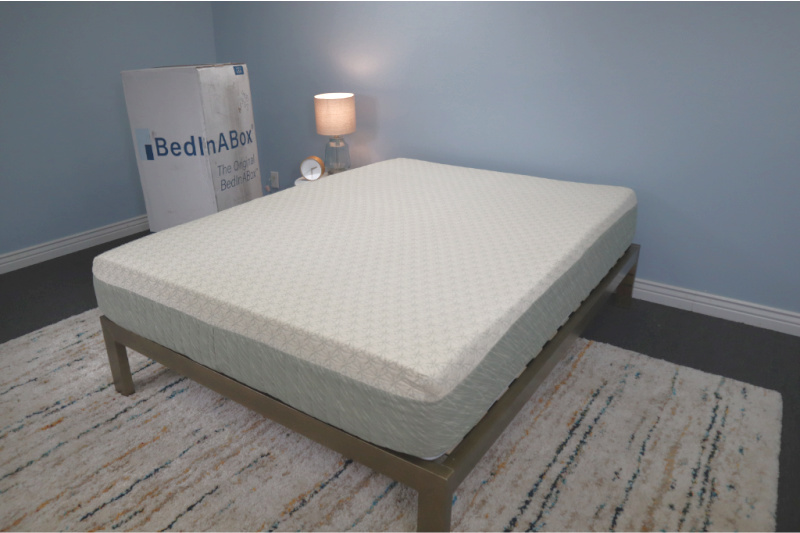 Eco-Lux Mattress Review
The Eco-Lux by Bed in a Box® is a Made in the USA (North Carolina, specifically) Memory Foam Bed.
Starting right off, let's look at what it's made of. That will determine the feel. Then we'll look at the unique features that make this a more eco-friendly choice.
WHAT IT'S MADE OF
Unlike a lot of green or eco-friendly mattresses, there isn't any latex or wool in the Eco Lux. Rather, it's all foam. First, the height. The Eco Lux is 11″ deep and made from renewable materials.
When I unboxed the Eco Lux, there was no smell, and it was ready to sleep on immediately.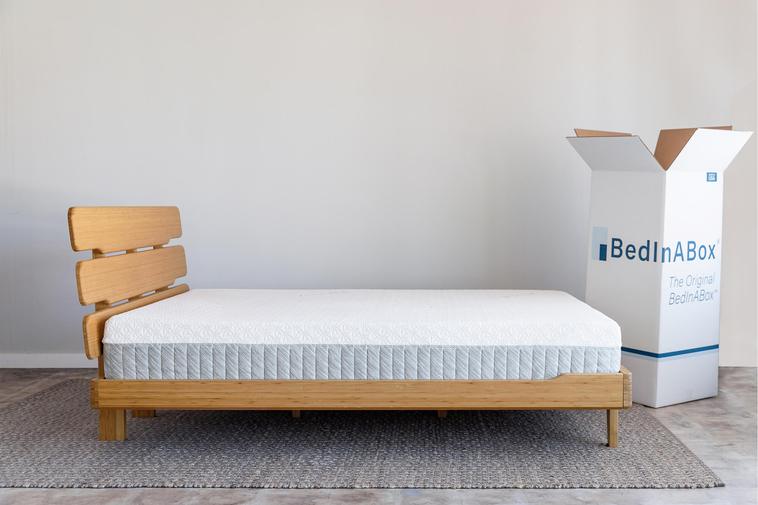 LAYERS
Cover – the cover is green on the sides and a lighter green with a bamboo pattern on the top. It's made from 100% organic cotton. So it has a different look from the same old white tops. The cover zip off for easy cleaning.
Under that, there are two layers:
3 inches of 4lb BioLux memory foam (this gives a medium feel to the bed)
8 inches of support foam 1.8 lb density (if you're heavier, this mattress will feel more firm because you'll sink further to this firmer layer).
The top layer being 4 lb, is medium-quality foam (but better than bed in a box companies generally use), and the base layer is a lower-quality foam. This mattress is higher quality than the Original that we have a review of, and it's made with renewable materials.
I like that they put the foam density. This is an honest company that's more transparent, and I appreciate it.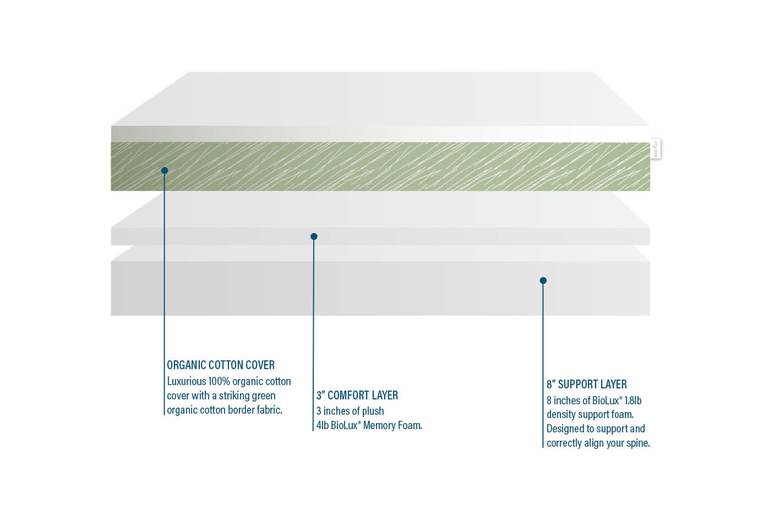 You can flip the mattress over and sleep on the firm side instead of the top 3 inches for a firmer feel, although I'm not sure why you'd do that. If there's a significant weight difference between you and your sleep partner, they recommend that you rotate the mattress every six months to prevent uneven wearing and prolong the life of your mattress.
It has a medium-firm feel. It doesn't sink in and stays down like traditional memory foam. It's more responsive and doesn't sleep too warm like memory foam can.
HAND TEST
MOTION TRANSFER
SLEEP POSITIONS TEST/EDGE SUPPORT
To see these features, watch my Eco Lux Mattress Review Video:
The Only USDA Bio-Preferred® Memory Foam Mattress

34% of a mattress is made with renewable foam. Not recycled materials, but it's made of natural resources that can be replenished. But you don't have to take their word for it – it's certified by a 3rd party – the USDA (the US Department of Agriculture).
BedinaBox will also plant a tree when you buy a mattress.
This mattress's claim to fame is that they say they're the first and only USDA Bio-Preferred® memory foam mattress.
What does that mean?
Biobased products are derived from plants and other renewable agricultural, marine, and forestry materials. These products provide an alternative to conventional petroleum-derived products. Consumers can trust the label to mean what it says because the manufacturer's claims concerning the biobased content are third-party certified and strictly monitored by USDA.
Also, for every mattress they sell, they plant a tree in your honor! But honestly, the best part is that you're avoiding some of the petroleum-based foam, which leads to a healthier sleep environment. It may not be the greenest mattress on the market, but it's a reasonably priced and solid choice, especially if you don't like the feel or are allergic to latex or wool.
So if you like a foam mattress and want the extra green factors, or if you don't want to spring for the cost of an organic, latex, or wool hybrid, the Eco-Lux is a great choice. It's going to be slightly higher quality than most foam beds, and they plant a tree in your honor.
Consumer Reports Rating
Ranked #5 for Foam Beds!

SIZES
At the time of writing, the Eco-Lux is only available in queen or king size, but they say other sizes are coming soon.
Sleep Trial
120 days
Warranty
20 years
PRICE
$1,299
If you want to finance your mattress where you get it now and pay later, they offer payment plans starting at $85/mo with Affirm.
At the time of this article, they're offering a discount of 15% off your mattress + 2 FREE Pillows.
Bed in a Box has a basic adjustable base and 3 foundations. No box springs are needed. And they have a highly-rated plush pillow that starts at just $24.
So to summarize
Made & Shipped in the USA
USDA certified to contain over 30% renewable materials
Made with less harmful chemicals
Quality Mattress for your budget
Highly rated by Consumer Reports in a very crowded mattress segment
Have any questions about the Eco-Lux mattress? Please leave them in the comments. I always do my best to answer any comments on the channel. And if you want to check out their classic bed in a box mattress, check out our Bed in a Box ORIGINAL mattress review.