Avocado Green Pillow | Adjustable Shredded Latex Bed Pillow
Looking for a certified all-natural green alternative pillow that holds its shape? Avocado Green is known for their green mattresses. They recently created a new pillow made of nontoxic and certified organic materials. Avocado is committed to creating earth-friendly products.

More about the Avocado Green Pillow…
Non-toxic pillow with customizable GOLS organic certified latex and GOTS organic certified kapok fill
Machine-washable, zippered GOTS 100% organic certified quilted cotton cover
Medium-plush feel with adjustable height
GREENGUARD Gold certified and vegan
The Avocado Green Pillow is like a shredded memory foam pillow, but it's made with latex. It's handmade in Los Angeles, and they have certified organic and GOTS materials. This is both a nontoxic and sustainably made pillow. We may earn a commission when you shop through our links.
Avocado Green Pillow Review
We reviewed a standard-size Avocado Green Pillow.
Going in, my questions were, how will it hold its shape? Is it comfortable? And, will it sleep hot? I've tested some latex products that were too warm, so I wanted to know if this pillow slept warm.
I was sent this pillow to review because I was curious how a shredded latex pillow compared to a memory foam pillow.
See the Avocado Green Pillow in our Avocado Pillow Review Video
Avocado Green Pillow Materials
Unlike the Avocado Molded Latex Pillow, which comes in a box and is flat, the Avocado Green Pillow comes rolled and in a reusable organic cotton bag.
It has a 100% certified organic certified cotton quilted cover. Then inside of that, there's an organic cotton jersey liner with a zipper so that you can remove fill and adjust the pillow to your preference. It comes pretty stuffed, but you can make it flatter or leave it more full. You can also purchase extra fill to replace or add fill to this pillow, which adds to its longevity.
Inside the Avocado Green Pillow contains a 70/30 blend of shredded latex and kapok tree fibers.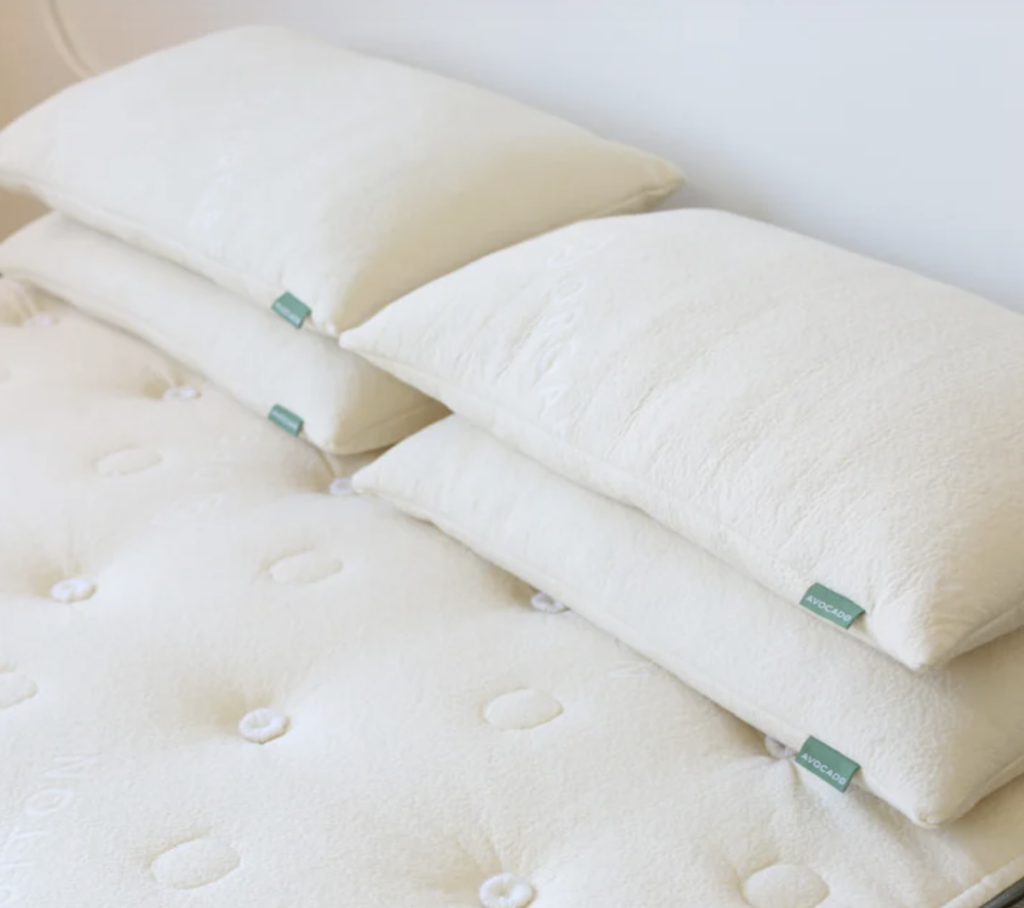 Adjustable Latex Pillow
The extra zippered part and the ability to add or remove the fill inside to fit your personal preference. The zipper makes it easy to adjust, so it's the perfect height for you.
The fill is natural organic certified latex rubber foam ribbons and organic certified kapok tree fiber. Kapok is a down alternative that doesn't involve any geese. The kapok tree fiber is key here because it forms a matrix that binds all of the latex together. If you don't have something like this holding the pillow insides together, your pillow is more likely to get lumpy as pieces stick together and may clump over time. But this fiber keeps that from happening. It's also super soft.
This pillow is also hypoallergenic, sustainable, biodegradable, non-toxic, and grown pesticide-free. And it's vegan.
Why does it matter if this pillow is hypoallergenic? Well, it matters most if you have allergies and if you want to live a more green lifestyle. I have a reaction to some of the chemicals used on memory foam, so I appreciate that these pillows didn't need to air out for a day or longer. And that I didn't wake up with a headache, watery eyes, and congestion.
Pillow Protector Recommended
The organic cotton cover can get water or sweat marks, so in this case, I would get the organic cotton pillow protector that Avocado sells. It's not waterproof, but it's thicker and quilted. This will help prolong the life of your pillow and make it softer, plus even out the feel.
However, you should know that's not waterproof. Or if you sweat a lot or spill liquids on your pillow, I highly recommend a waterproof pillow protector like this one.
Avocado is a natural brand, and of course, waterproofing isn't natural. However, I've seen their mattress cover, and the fabric is just gorgeous.
GOTS Certified NonToxic Pillow
The next point is that the pillow is GOTS certified.
What about GOTS certification, and how is it key to the Avocado brand? First, GOTS stands for The Global Organic Textile Standard (GOTS). This is the worldwide leading textile processing standard for organic fibers, including ecological and social criteria, backed up by independent certification of the entire textile supply chain.
Some brands will fake it, but the whole point is to verify the authenticity of the materials, and Avocado has certified each piece of this pillow.
You have the latex inside that's made in the U.S. from sustainably harvested and organic sources. It's GOTS certified.
Then the kapok, which is made from the CEIBA TREE. It's also GOLS certified.
Then you have the organic cotton Certified Organic Cotton cover that's not only GOTS certified, but it earned the most stringent Organic OEKO-TEX® Standard 100, Class 1 Certification.
So you have each component that's GOTS certified. And you can check to confirm that they do meet the standards of this governing board. And they do. So that builds trust and lets you know this is authentic.
What you need to know is that Avocado is a natural brand, and they don't use the cheapest materials from China. The price for this pillow is about the same as other brands, yet it's higher quality.
Comfort
I found this pillow to be very comfortable. The latex provides the structure and adds support.
Temperature
What about the temperature?
If you either sleep hot already or not, you don't want your pillow to get too warm while you sleep. And the pillow lived up to its promise and didn't sleep warm. Sometimes I'm afraid that latex will sleep hot because it's a natural rubber product, but this is shredded, and there's airflow. So no problem there. It doesn't retain heat.
Sizes
Some pillows only come in one size, so I think it's important to see. We only use king-size pillows on our bed. Avocado pillow comes in standard, queen, and king.
Price
A queen is $89. Just a note about pillows and price. It's one of the most healthy, chemical-free pillows you can buy, and it's about the same price as similar quality pillows that are not green.
I used to pay around $35 for a pillow, and there was no way I'd pay much more. But then I noticed I went through several pillows a year. And I was never really happy after about 3 months because they broke down and didn't have as much support. What I've found is it's worth it to pay more for a pillow – my pillows last for years without breaking down. So now I even give pillows for Christmas gifts. I think they're so important. I'm a pillow evangelist. They're so personal.
WARRANTY AND SLEEP TRIAL
You get a 1-year warranty and a 100-night sleep trial.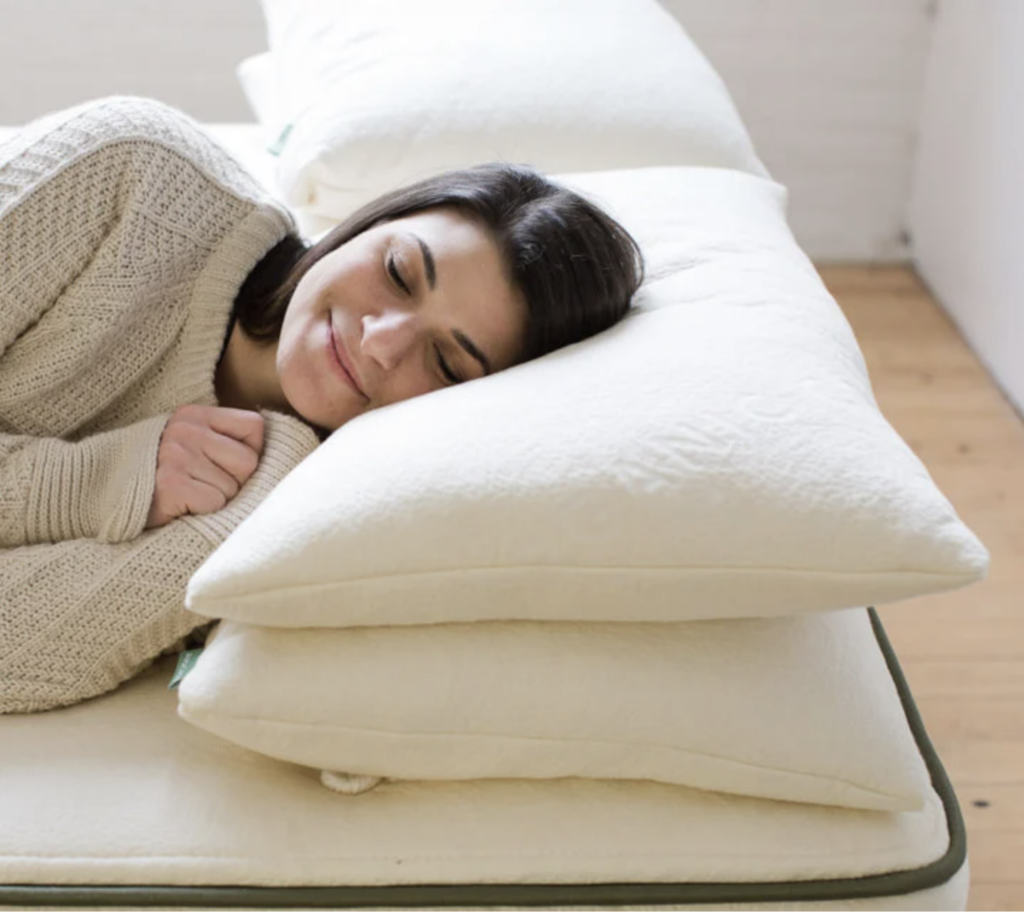 So I hope this helps you decide if the Avocado pillow is right for you. Leave a comment below with any questions, requests or to share your experience with the Avocado pillow. And if you prefer a molded pillow, check out our review of the Avocado Charcoal Infused Molded Latex Pillow.