Best Adjustable Beds Reviews 2021
Boxed mattresses often have the top mattress and still need to be paired with a base or platform. This, along with how many features and styles you can get them in, has contributed to more interest in adjustable beds. You can find them in various colors and fabrics and with high-tech features. To get a more finished look, get a headboard or bed frame with your base.
Adjustable beds are popular for all ages. Split options make them appealing to couples. They address health issues like back pain, snoring, acid reflux, congestion, and other concerns so you can sleep more deeply.
Enhance the time you spend in bed with under-bed lighting, and even speakers or USB chargers can keep you powered as your bed becomes the workstation that allows you to work in bed. You can find the most luxurious adjustable bed or a cheaper model that covers the basics. Or something in between.
Zero-G positions may reduce the pressure on your spine, shoulders, or hips. Relieve muscle tension and improve circulation. There's nothing better for bad backs.
Massage soothes sore muscles from today's tough workout or takes you to a deeper state of relaxation.
Adjustable beds improve your health, sleep, and lifestyle. Just be sure to get a mattress that will work with an adjustable bed.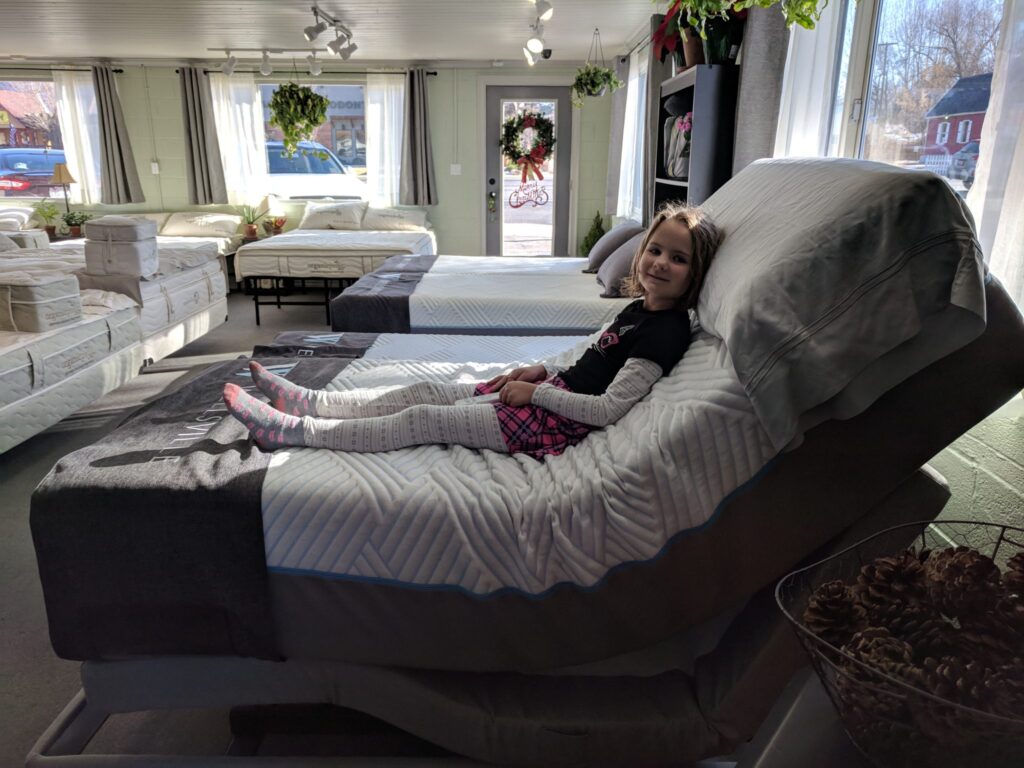 Like mattresses, adjustable beds can be boxed and sent to you. However, most don't offer returns or sleep trials because they're so heavy.
Best Rated Adjustable Beds 2021
This list has been completely updated for 2020. Prices and models change from year to year so we encourage you to check the website for current prices and sales.
We looked at the top 5 adjustable beds based on a number of reviews and features they offer. These have features and price tags to make them attractive choices for different budgets and price ranges.
Adjustable Beds Reviews and Comparisons
Adjustable bases can run hundreds or thousands of dollars. Here are some top choices based on research to help you get the most out of yours.
Ghostbed Adjustable Base
Ghostbed sells a highly rated adjustable base as quiet as a mouse. No one wants to hear that squeaking mouse sound from their bed – it's the worst complaint people have about an adjustable base! A lot of companies haven't figured out how to avoid it.
The two factors that set this adjustable bed base apart: LIFETIME WARRANTY and the excellent price for the features — other brands are DOUBLE the price. Adjustable beds can be a big pain to set up, so thankfully, Ghostbed has videos to walk you through the process as easy as possible.
Zero Gravity (benefits of 0 gravity sleeping)
Wireless remote control with anti-snore button
Dual Foot & Head Massage
Minimal Setup
Under-Bed LED Lighting and USB chargers (1 per side)
Flexible Financing & Payment Options start at $75 per month
Ships In 24 Hours

Lifetime Warranty
UNBOX MATTRESS TOP VALUE PICK
Classic Brands Adjustable Comfort Upholstered Adjustable Bed Base
The dimensions of this base is 59″ W x 79″ L x 15″ H for a queen. It says upholstered, but please know that it doesn't include the bed frame that you drop the base into that's pictured with it.
Head and foot massage

USB ports

Wireless remote

Separate ergonomic head and foot elevations; programmable settings for lounge, TV/PC, and zero-gravity positions

Head Elevation is 65 degrees, and foot elevation is 50 degrees

3-speed separate dual head and foot massage so you can unwind, relax and soothe your body

Easy to use wireless remote with preset and programmable settings,

and for additional convenience two 1.5A USB ports are built in the base to charge your electronic devices.

Adjustable legs for three different height options- 5, 7 or combined for 12 inches; includes mattress retention rail to keep your mattress in place
AMAZON BESTSELLING ADJUSTABLE BASE, which means this base outsells others on Amazon
Sven & Son Queen Adjustable Bed Base Frame Platinum + Mattress
We like how easy the remote is to use, considering all the features.
Lumbar Support | Pillow Tilt | Head 0-75° Foot Articulation 0-45°

Wall Hugging 8 inches

4 Independent Heavy-Duty Motors

900 lb. lift capacity | Compare to Leggett and Platt Prodigy Comfort Elite adjustable bed base.

Includes 10″ Memory Foam Mattress

REMOTE with Zero Gravity | Anti Snore | TV | or 3 Pre-Set Memory Buttons

Under Bed LED Lighting

Dual USB Charging Stations – 4 Per Base

Multiple Level Massage, Pulse, Wave, and Full Body Vibration

3″ 6″ and 9″ adjustable legs

10-YEAR EXTENDED WARRANTY ($600 Retail Value) $0 DEDUCTIBLE PARTS AND LABOR in-home technician visits. 100% mechanical, motors, electric, power surges, and structural coverage.

Free Shipping, White Glove set up service available.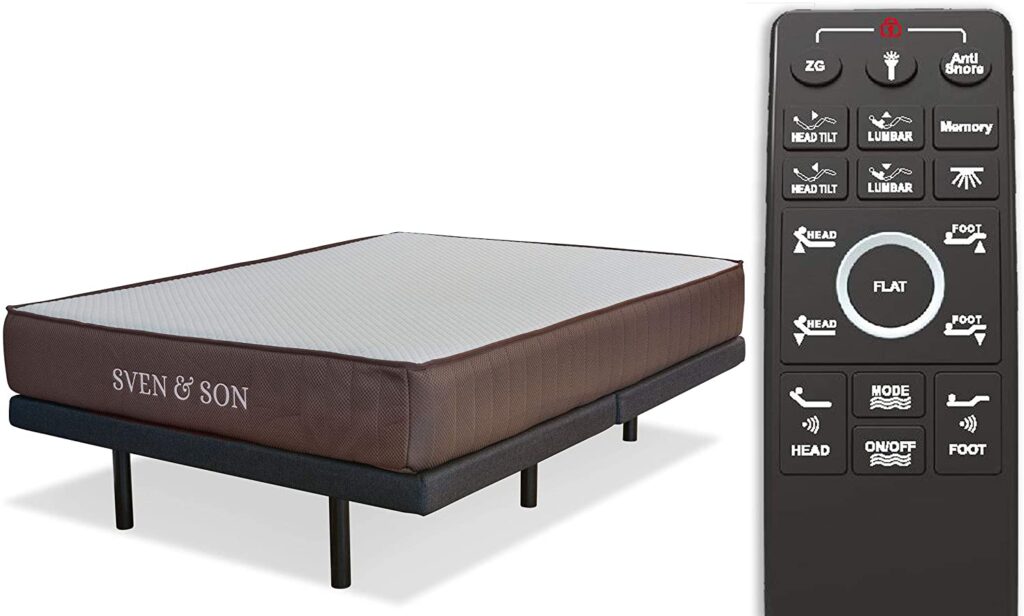 Sold with or without a memory foam mattress (choose from 10 or 12″ thickness and firmness level), and they offer a white glove delivery option, so you don't have to set it up yourself.
LUCID L150 Bed Base
This is the lowest-priced base on our list, but it is quite basic. No massage, presets, USB chargers, or fancy features. It's more to raise your head or feet. As of writing, the price is $449 for a queen size, and financing is offered for Amazon Prime members – 5 monthly payments of $90. Ideal for an older adult who wants the basics and simple operation.
Bed base dimensions: 79.5″ L 59.5″ W 14″ H

Head elevation: 0-58ᵒ. Foot elevation: 0-40ᵒ

Supports a maximum weight of 600 lbs. of evenly distributed weight

Compatible with most mattresses under 14 inches; can fit in most bed frames

Reliable, quiet, and responsive motor (no massage)

Measures 13.5 inches from the floor to the top of the base

5-year warranty protects against manufacturer defects

People say that assembly is pretty easy – takes about an hour for 1 person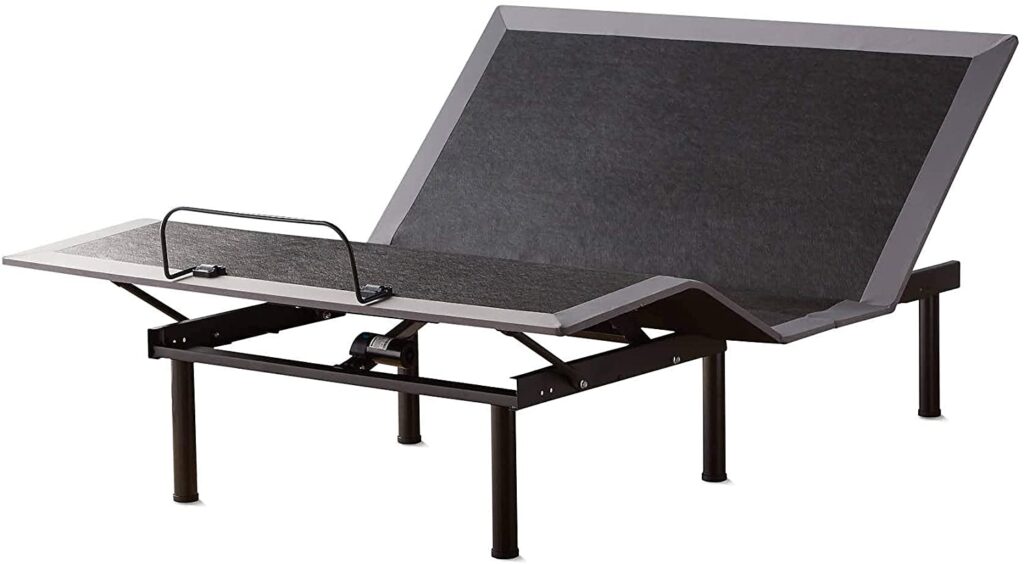 No frills base that's value priced with an easy-to-use-remote
iDealBed 4i Custom Adjustable Bed Base
Item Dimensions LxWxH 80 x 14 x 60 inches
Head can be adjusted up to 70° and the foot up to 42°
Wireless back-lit remote with 18 buttons, 3 pre-set positions including zero-gravity, anti-snore, and flat button
Underbed light with 2 USB ports per side
Ultra-quiet Leggett & Platt power motors with 850 lbs. capacity per unit
Zero clearance design made to fit inside existing bed frame
Full body massage with 3 intensity levels, 4 modes including wave, pulse, and constant with a 10 to 30-minute timer option
3 in 1 height option leg design including 4″, 7″ and 11″
3 years of full coverage and 10 years prorated on the entire bed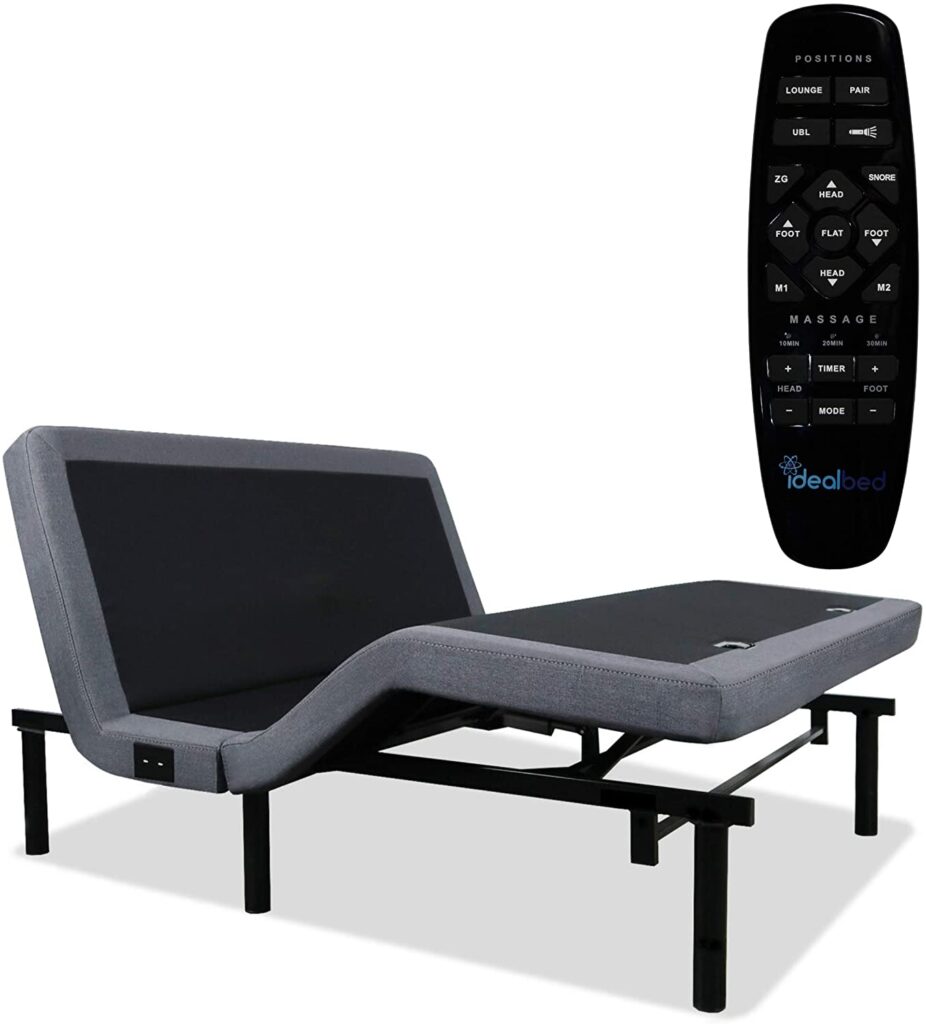 We like that the massage comes with a timer so you can set and forget (fall asleep to it).
Questions to Ask Before Buying an Adjustable Bed Base
Here are some things you need to be aware of before choosing an adjustable bed base:
How much weight will you need to support? Consider your weight, the mattress, and the base.
Do you sleep solo or with someone else? If you sleep with someone else, do you want one mattress or a split base that each has its own control?
How much space do you have? Wall huggers conserve space.
What features do you want? Consider what's important to you – massage, plugs, alarm features, etc.
Wired or wireless remote? Does it come with an app? Presets?
What is your budget, and does the price include the mattress? If you buy a mattress that's too thick, it won't bend when you raise or lower your head/feet. Make sure you get a quality mattress, though – the flexing motion will cause extra wear, and you don't want to sleep on a mattress that develops a fold in the middle. Adjustable mattresses can be innerspring, foam, or a combination. Most boxed mattresses will work with an electric bed. Many bases include financing, so you can buy now and pay later.
What's your style? If you don't like the look of the mattress and bare base, you might still need a bed frame to drop your adjustable base into. It gives a more polished/stylish look.
What is the warranty like or repairs? This is a machine and is much more complex than a regular bed frame. If something goes wrong, what are your options?
Does it come with set up, or can you purchase it – how hard is it to set up?
That's it for our top adjustable bases for 2020. Which one do you want?