Custom Mattress in a Box for RVs Trucks & More: Tochta RV Mattress Review
Custom RV Mattress
Hello, unboxers! Today we're reviewing a Tochta RV Mattress. Tochta is an affordable CUSTOM MATTRESS for RVs, travel trailers, boats, vans, trucks, sofa sleepers, motorhomes, or any non-standard space. 
You can get standard sizes but Tochta specializes in RV mattress replacement: when you need a cut corner, a short queen, etc.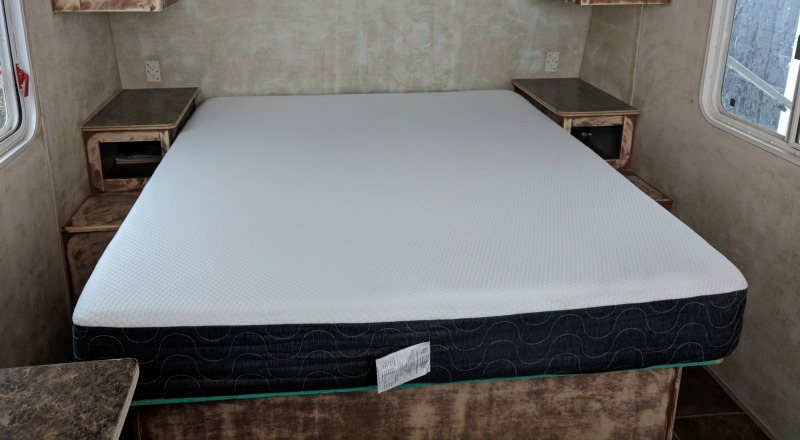 They build the RV and luxury trailers as cheap as they can and they're super uncomfortable. It's pathetic. That's why Tochta is such a great solution – it's actually a luxury mattress and yet it's priced so low.
What we like most about Tochta is that they've been in business for over 25 years and have a high-quality product that many people need. They manufacture and sell both standard-size and custom mattresses that are sent to you in a box. It's the first company like this that we've ever reviewed.
First, disclosures: We requested and were given a Cortana foam mattress, and while we weren't paid to do this review, if you buy a Tochta RV mattress, we'll make a commission.
How Tochta Works
Use their custom builder and enter your own custom dimensions. Their website lists most of the standard RV sizes too.
Select the thickness you want – see below for more specific mattress dimensions offered and all the custom options available.
See your price! Queen-size mattress start at $378.
Tochta RV Mattress Review
We worked with Brissa over at the Mother She Wrote blog or on YouTube as Mother, She Spoke. Brissa is remodeling her RV and needed a more comfortable mattress. We loved that Tochta came shipped in a box, the fair prices, and great quality. Watch our Totcha RV mattress review here:
Tochta RV Mattress Review: Top 10 Features
Brian is the owner of Tochta, and from the start, we talked with him directly and got a feeling about his knowledge and passion for his product.
We asked why he started Tochta, and here's what he told us:
"I've replaced the mattresses in every RV I've ever owned. It was no sweat for me because I happen to own a mattress manufacturing business, right?! We would end up replacing the mattresses in our friends RV's too, and their friends, and so on. It took me long enough to figure out that we had a real solution to a REAL problem! So I finally created TOCHTA.
I wanted to create a site which would offer only quality mattresses with instant pricing without having to jump through hoops with emails and phone calls.  I know that I personally get turned off with difficult shopping experiences, so I wanted it to be as easy as possible.  I think we've created an incredible product, using only high-quality materials, with an easy shopping experience for virtually any size mattress, and true factory direct pricing."
He also told us why he named the company Tochta and he told us the word means "mattress" in the Irish Gaelic language (and his wife is part Irish). Another lucky mattress!
And now for reason #1 to love Tochta custom mattress:
#1: Tochta is not a new bed in a box company – they've been manufacturing mattresses for other brands for over 25 years!
We reached out to Brian, the owner, to get the story about Tochta. He told us they'd sold 2 million pieces for retailers, but he had a concern that many ordered what he thinks were crappy mattresses.
I know what it takes to make a quality mattress, and I'm appalled at the unnecessary gimmicks, and tactics thrust onto the mattress-buying consumer.  But we've been pretty much cornered into making what our customers (the retail stores who sell mattresses) demand, and that usually ends up being an inferior product with fluffed up gimmicks.
#2: Most RV Mattresses SUCK and finding a replacement is not easy!
Brian wanted to do something about that. As an RV owner himself, he saw that most of the mattresses in his RVs are about the worst quality possible! RV owners spend a LOT of money on their "home away from home", and the mattress in it is usually junk. If you try to buy a replacement, it's tough to find the right size. Which leads to reason #3.
#3: Custom mattresses in about any size, shape or cut you need to fit your RV or unique requirements.
If you are lucky enough to find the size you need, it's usually poor quality and still very expensive. Tochta makes CUSTOM SIZES at an affordable price.
The other guys can only make the 6 standard sizes (Twin, Twin XL, Full, Queen, King, and Cal King).  Tochta also makes the short queen, RV bunk, Eastern king, and more. We've never seen so many sizes!
They also make custom sizes which means they make virtually ANY size, ANY shape, and ANY special cuts (corners, notches, etc).
Their website gives instant pricing for any thickness of the mattress you want between 4″-10″.  So note that you can get a thicker mattress. You just need to call for a price quote. You just put in the dimensions.
Tochta Mattress Dimensions
Ok, there are some limits to what Tochta can do. Here are the ranges that Totcha can manufacture a mattress for:
2" – 12" thick

2" – 88" wide

2" – 100" long

Unique corner cuts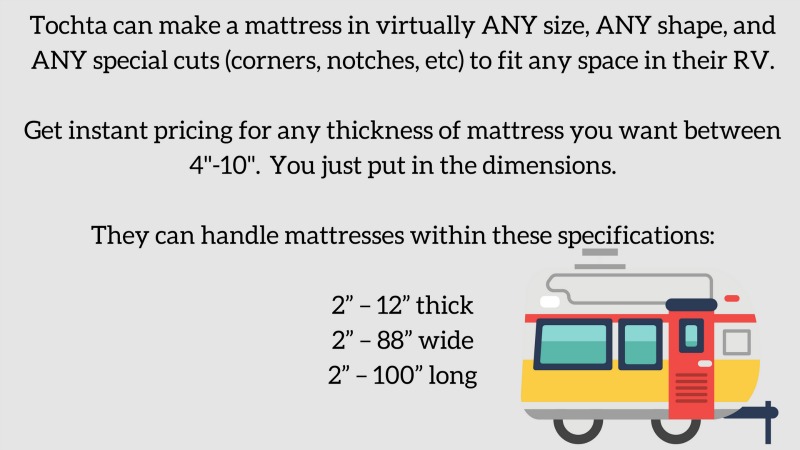 Check it out at Unboxmattress.com/Tochta
#4 Tochta mattresses are made in California, not China.
Many companies claim to be "direct" to consumer, yet they have no factory. Tochta is made in California and is made when you order it. Mattresses are made in 1-3 business days and shipped via UPS ground anywhere in the continental United States. You'll get your bed in about 1 week after your order.
Shipping is free. Shipping to Alaska and Hawaii is available for an additional charge which will be noted before checkout.
#5: Three different types of mattresses to choose from.
In addition to the sizes, Tocha is made from, they have 3 models. There isn't a huge price difference between them (surprisingly), but of course, when you add thickness and size, the price will be higher. After you put in the dimensions you want or choose from one of their sizes, you will choose the model. So that means you will choose the thickness and dimensions first. We got the Utopia.
Journey which is their basic quality mattress made of memory foam. It's the lowest-priced model.
Cortana which is a more firm bed that's naturally hypo-allergenic, mold, mildew & dust mite resistant. It has a small layer of latex.
Utopia is their top model that's more plush and made of memory foam.

#6: Get an Instant Price Quote Online.
On their website, you can order virtually any size and/or special cut and get an instant price as long as it fits their specs.
This a unique approach for the RV mattress space. It's not just for RVs, though. You can buy ANY mattress for your home or RV. Their pricing is better than most bed in a box brands starting at $378 for a queen size in their Journey line.
#7 100 Days Sleep Trial and a less than 1% return rate.
Tochta offers a risk-free 100-night money-back guarantee. There is free shipping to you, but you're responsible for shipping charges on the return.
We asked Brian what the return rate is from Tochta, and he said they rarely get them because people order what they want and love it.
#8: High-quality mattresses at factory direct pricing.  
Tochta is the actual manufacturer, so this company is not a bunch of techies who created a website and marketed it. They've made beds for a long time (yes, they make the beds).
#9: Tochta mattresses have a 10 year warranty.
This is pretty on par with other bed in a box mattresses, but as we noted, the prices are lower. The customer experience with Tochta is excellent and even though they're a large manufacturer, it still feels like a family run business where they care about every customer. We really like that!
#10: High quality memory foam.
Tochta uses a 4 lb memory foam, but say there are many different 4 lb memory foams out there that feel and perform much different, in terms of comfort, firmness, recovery, and durability.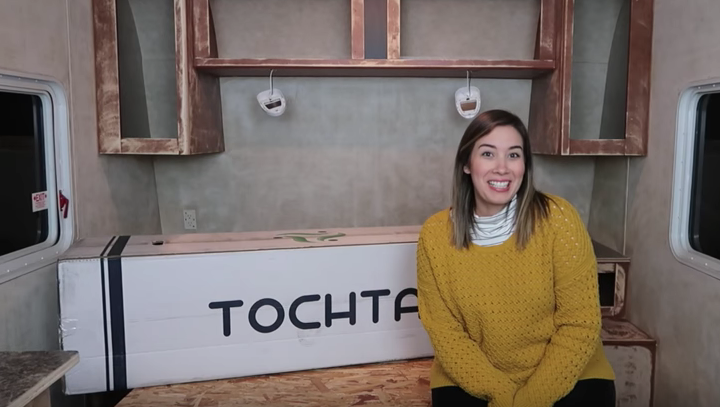 Questions and Answers
Do you make for pick up truck back seats for those whose occupation requires them to sleep in the truck?
Yes, Tochta can make a mattress to fit the area, but not the actual seat. Just use the custom mattress builder. Enter in the dimensions (L x W x H) that you need, and it will give you an instant quote on each of their 3 models.
Each model is made of high resilient foam, latex, and gel memory foam. Orders are processed within 5 working days and shipped for FREE! If what you need requires specialty construction, they can do that too! Just email them. 

If some of these RV's cost thousand and thousands of dollars, well, why should you have to buy a comfortable mattress for it?
That's the whole point of Tochta. You'd think the manufacturers would put a decent mattress in an RV, but as RV owners know, that's usually not the case. Why should you have to suffer with a bad mattress when you're on a vacation??
I like that it is modifiable for shape. But how much does it weigh? Some brands weigh quite a bit. After 5 years, it weighs much, much more! How does this compare to lightness?
Tochta's thickest model (10″) only weighs about 63 lbs in a Queen size. If you use their custom mattress builder, you can order any thickness you want (between 4″-10″), which allows your mattress to be even lighter.
Can I order a Tochta mattress for my home?
Yes, absolutely. Choose from regular sizes or these: Twin, Twin XL, Full, RV Full, Full XL, Queen, Short Queen, RV King, Short King, Eastern King, and California King.
Does Tochta make mattresses that fold in half for hybrid trailers?
Yes, they do. Contact them to get you a quote on a "hinged" mattress that folds. Enter COMFY25 for $25 off!
How about pop-up campers? Those mattresses are harder to change when they fold inside the camper. My mattress is horribly uncomfortable!
Yes, they can make mattresses that "hinge" to fold away, or any other special requests too. Contact them for a price quote, and please tell them Unbox Mattress sent you.
How long does it take the mattress to expand once it's out of the box and layers of plastic?
No need to wait hours for your mattress to expand. The mattress fully expands in about 20-30 seconds. Watch our Tochta unboxing video to see what it looks like.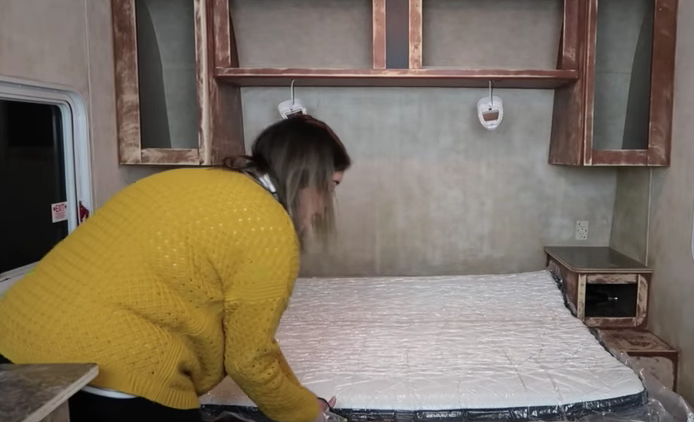 What if I'm really tall and need a very long mattress to fit me?
Tochta can do that too. They can be made longer than 72 inches long. You might need to call to get a custom quote, though.
Are the mattresses constructed with both sides the same, maybe with a center core that might be for stability, so they can be turned if, for whatever reason, sag occurs? Hate these new ones sided mattresses. Sooner or later, they give, and turning over to re-level has always been the only way to at least temporarily remedy that.
Tochta beds are one-sided but use only high-density foams, latex, and memory foam. The "quick recovery" memory foam they use doesn't "sink in" like so many others. It provides a "push back" support to provide comfort, support, and balance simultaneously.
Since they're truly factory direct and not just a website claiming to be while subbing out the work to other manufacturing channels, they can use the highest quality materials while still beating the competition's price.
Tochta can cut out all of the unnecessary markups between you and the manufacturer, which is us! You can expect incredible comfort and durability.
What if in our RV we have a queen now with 2-night stands but want it to be King size? Can you cut the top down 25 inches at a queen size and then go to a king size the rest of the way if we have your exact dimensions?
Yes, Tochta can make virtually ANY size/shape/thickness you need. Special cuts and shapes are no problem. You can email them a diagram of what you need and email it to them for a quote right away!
Do you make a mattress for a Murphy bed (queen). I have concerns that the bed frame won't raise up and store properly if the mattress is too thick.
Yes, Tochta makes a thinner mattress you can use for a Murphy bed or soft sleeper, bunk bed, etc. Need a horseshoe cut for your boat, they can do it!
I have a latex allergy. Does Totcha have latex in it?
Choose the Journey mattress – it doesn't have latex. The Utopia mattress is a luxury mattress, with 1″ of latex as it's 2nd layer so it's nowhere near the surface (it's underneath the top 2″ layer of the mattress), so you would not be anywhere near it. But if you are concerned, the Journey is the best option for you.
Is Tochta fireproof?
The federal government requires all mattresses sold in the US to meet very stringent burn tests, known as 16 CFR 1633 and 1632. An independent lab places two testing burners next to the top panel and side of the mattress. They are ignited for approximately 30-50 seconds and then removed. Finely calibrated instruments record the rate of heat release, as well as total heat release. If a mattress continues to burn and penetrates the barrier, it will fail immediately. Our mattresses pass these tests easily.
How well do these hold up in cold weather?

You don't want to sleep on a brick when it gets cold outside (or inside). Memory foam is known to be harder in cold and softer in heat. Tochta's memory foam layer has an additive called "Omni-Temp," which minimizes the "hardening" found in many other memory foam mattresses when it gets cold.
That wraps up our Tochta mattress review! If you have any questions, we'll try to answer everyone. Just leave them in the comments below.
Thank you for using our link should you decide to order a Tochta for your RV!
Oh, and Brian told us that they hope to add custom sheets to their line sometime in 2019! In the meantime, we found some short sheet sets that you can see in our article about why order a short profile mattress.