Luma Sleep Bed – The Natural Talalay Latex Mattress with 0% Financing
Luma Sleep makes a bed that we really like. Before we give you some reasons why, here's some background about Luma. They are a Florida-based mattress manufacturer created with guidance from "The Sleep Doctor," Michael J. Breus, PhD. They have a lot of options but you should know that it's a latex bed that comes in 3 firmness levels that can be exchanged if the first try isn't just right.
The Luma Mattress is a hybrid bed and comes in 3 different styles, yet each of them features:
Mattress and Toppers made with 100% natural latex along with foam and pocketed coils
Free shipping
100 day free trial
15 year warranty
Made in the US
High quality mattress
A selection of adjustable bed bases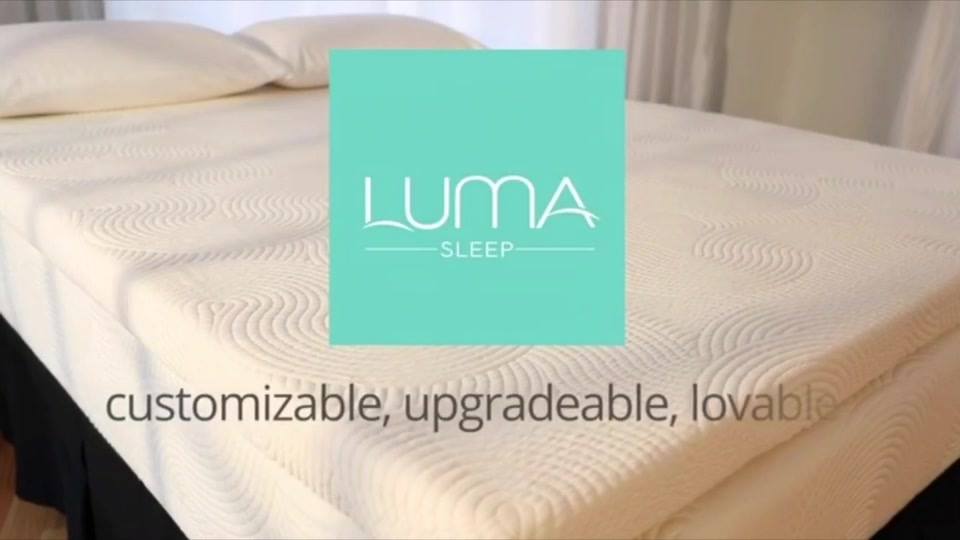 We may earn a commission when you shop through our links.
3 Reasons to Love the Luma Sleep Bed
1. 0% Financing
This is a premium bed and it's reasonable but a little higher priced than some other bed in a box brands but with the quality it's a great value. If you are looking for an affordable monthly payment you can get 0% financing if you pay within 18 months on purchases made with your Luma Sleep Credit Card. Equal monthly payments required for 18 months. They also use PayPal credit. If by chance you don't qualify for financing one way, they'll offer an alternative. And you get the answer and terms right away.
Plus, you can get a Luma Mattress discount. Just use code LUMA10 for an additional 10% off (or give your email address on the website for 10% off).
2. Comes in 3 Firmness Levels that Can be Exchanged For Up to a Year!
What you're going to love is that this bed give you choices. You can choose 'Plush' (3.5/10), 'Medium Firm' (6/10), and 'Firm' (7.5/10). You have up to a year to exchange the top layer to fit your preference too!
We've found that addresses the #1 reason people return a mattress is that it's too firm or too soft. Most beds are returned for being too firm. Luma addresses this and gives you plenty of time to be sure you have the firmness you sleep best on. And with the exchange you can find the firmness level that fits your preference.
The Basic Luma Mattress is an exception – as it has 2 firmness levels. The mattress can be exchanged for the other firmness level for up to a year after purchase.
The Latex Hybrid Slumber System has a 3″ topper can be exchanged for a different firmness level for up to a year after a purchase.
The All-Latex Slumber System includes …a 3″ Talalay latex topper in your choice of 3 firmness levels. The system comes with 2 queen size Talalay latex pillows, a mattress protector and free white glove delivery. The topper can also be exchanged for a different firmness level for a year after a purchase.
3. Luma is a Heavyweight!
You may think of a heavy bed as a negative but it's actually a plus! It might be harder to move this mattress but here's why that's a good thing: weight is a sign of quality. Cheaper beds use light weight foams that aren't going to last as long.
It might be easier to move a lighter bed but you'll have to replace it more often. This mattress should last twice as long as most of the top brands you've heard of.
Here are some weight and prices to show you what we mean:
Queen Luma mattress weighs 100 lbs. and is $995
Queen Natural Latex Hybrid weighs 135 lbs. and is $1,295
Queen Hybrid Slumber System weighs 155 lbs and is $1,695.00
Queen All Latex Slumber System weighs 185 lbs and is $1,995
If you just need a top layer/mattress topper, choose from:
3″ Talalay Latex Comfort Layer From $375
2″ Talalay Latex Mattress Topper from $300
If you're in the market for a new mattress, like natural latex and want to buy from a solid company that is transparent, recommended and makes their beds in the US, Luma is a great choice. Combine that with the firmness level exchange, 0% financing and quality, Luma will make even the pickiest sleepers happy.