Nectar Mattress Review (2021 Newer Version)
Nectar Mattress is a popular household name with mattresses in a box, and last year, they launched their brand new all-foam version. I'm very familiar with the original Nectar Mattress, so I'm curious how it changed.
The best part about Nectar Mattress is the freebies you get with the purchase and that it has a 1-year sleep trial and a forever warranty! That's extremely generous.
Here's what you get
Pillow
Sheets
Waterproof Mattress Protector

New Nectar Mattress Review
Nectar sent me this newly launched 2021 mattress to review. The video below goes over what's changed about this mattress and what you can expect now. It includes what it's made out of, how firm it is, and, of course, the cost and sleep trial/warranty.
Is it worth it??
And also, check the link for the Platform Bed Frame in the Video.
BRANDING
With this updated version, Nectar changed its whole brand look. The mattress used to have a gray outside cover, quilted memory foam, and a memory foam quilted cover. It was a medium-firm mattress. This one is very different. I wouldn't even consider it the same mattress as the one I knew before.
Nectar Mattress Unboxing
I previously unboxed the Nectar Mattress mattress, which is pretty standard as far as unboxing goes.
The parcel arrived in a large box with the Nectar mattress rolled up and vacuum-packed. The unboxing process itself was pretty easy. Once you take the mattress out of the box, you just let it expand. It did take a little bit longer than other mattresses to come into shape fully.

The Nectar Mattress did have some off-gassing, and it's a little more than usual. You may have a different experience because it depends on how long the mattress stays rolled up in the manufacturing facility. The longer it stays in plastic, the stronger that smell can be. So results can vary.
Nectar Mattress Review
For more details and to see different sleep positions, check out our full Nectar Mattress Review in this video:
Nectar Mattress Layers
Now, let's talk about what the Nectar Mattress is made of. First, it's 12″ deep, a bit thicker than other foam mattresses in its category.
Quilted Cool Cover with heat-wicking, cooling technology.
3″ of cushy, high-density, pressure-relieving gel memory foam.
2″ inches of dynamically adjusting foam to give your body support.
7″ layer of standard foam ensures the comfort and support layers above it perform at their best.
It has a jersey fabric on the sides that is dark gray. I prefer to have color because if you spill something, it won't show as much.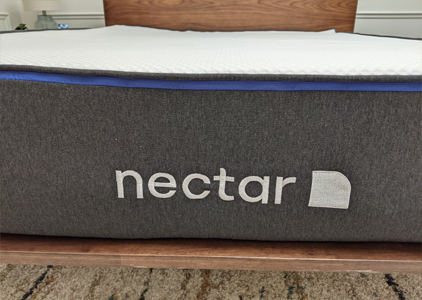 The mattress cover is easy to take off and is removable. It's washable, and then you can put it back on because it unzips from the top. That makes it so much easier to remove the cover.
Nectar Mattress Firmness
The new Nectar memory foam mattress is firmer than a medium-firm.
Sizes
The Nectar Memory Foam Mattress comes in 7 sizes:
Twin size/Twin XL
Full
Queen
King/California King/Split King
Nectar Mattress Price
At the time of the review, a Queen size Nectar Mattress is at $899, which is well-priced for its level of support and comfort.
Shipping
Nectar does ship free, so you don't have to pay for shipping.
Financing
Financing options are available for the new Nectar mattress. It starts as low as $67 a month if you want to pay as you go instead of all at once. If you qualify, they also have 0% APR, so you will not pay interest.
Is the Nectar mattress for you? That is the big question.
Top 3 Reasons to Buy a Nectar Mattress
1. SLEEP TRIAL/RETURN POLICY
It has a 365-day sleep trial that gives you an entire year to sleep on it to decide if it's good for you and if you want to keep it. But then, if you don't like it for any reason, you can get a full refund as long as it's in that one year.

That's one way I would do it, but they will send someone to your house to pick it up and send it to a charity that needs a bed or has room for it.

You can also return the accessories considering that they're unopened. So if you are unsure about the product, don't open them so that you can avail of the refund.
2. WARRANTY
The Nectar mattress has a forever warranty as long as you are the original owner. If you pass it on to someone else or get it from somewhere and you're not the original owner, this lifetime warranty doesn't apply to you. That should cover any defects that might show up in the first year. The industry standard for most mattresses is only 10 years, which is significantly longer.
3. FREEBIES
I don't know when you're reading this, but right now and frequently, Nectar has a special deal wherein you can get two free pillows with your mattress, a mattress protector, and sheets included.

Free!
So that comes with your mattress purchase, and I love that because you shouldn't sleep on a new mattress without a mattress protector. It's nice to have because of the pillows and sheets worth $300-400. Hopefully, they will offer this bundle more often.

Are the freebies good quality? Mine didn't come with the accessories, so I couldn't include them in the review. Just know that if you decide to return your Nectar Mattress, you may have to pay for the freebies. Be sure to ask about that. You may not even want to open them until you're sure you plan to keep the mattress.
WHO'S THE NEW NECTAR MATTRESS BEST FOR?
The new Nectar mattress is best for small to medium-weight side sleepers who prefer the classic slow-moving memory foam feel. And also, people who don't mind getting that warm feeling from a memory foam mattress will favor this new version.
How did I like the Nectar Mattress?
The new Nectar mattress is great because you get an entire year to try it out. It should last you several years, not as much as a hybrid mattress will probably last you, but you should be good. The mattress weighs 66 pounds, which is slightly less than other mattresses in its price range but not significantly. They're always around 70 pounds for a Queen.
In my opinion, the mattress isn't as good a quality as the old one. It has a couple of things that I don't like:
The cover doesn't quite fit, so I don't think the foam was cut evenly. Some of the corners are in an inward slant.
The cover is loose, and it's not as tight as the previous model.
I expected it to be a little bit higher quality for its cost. Now I know you are paying for those extra things you're getting with this mattress.
The foam seems significantly softer than they claim. I'm not too fond of the feel of my hips sinking.
And also, I don't like the heat around my hips.
I prefer to get a hybrid, but Nectar Sleep doesn't make hybrids. I know a lot of people are looking for a soft mattress. They're hard to find because they're usually not as durable as more firm mattresses because as you sink in, it doesn't respond as well over time. But if you like all foam and that warm, comfortable hug feeling, this is more the mattress for you.
Overall, the satisfaction with this Nectar mattress is probably on average. Maybe, a little bit below average.
Any questions or opinions? Leave them in the comments below, and I hope this helps you make the best decision on a new mattress.