Bed in a Box Mattress News and Trends: Adjustable Pillows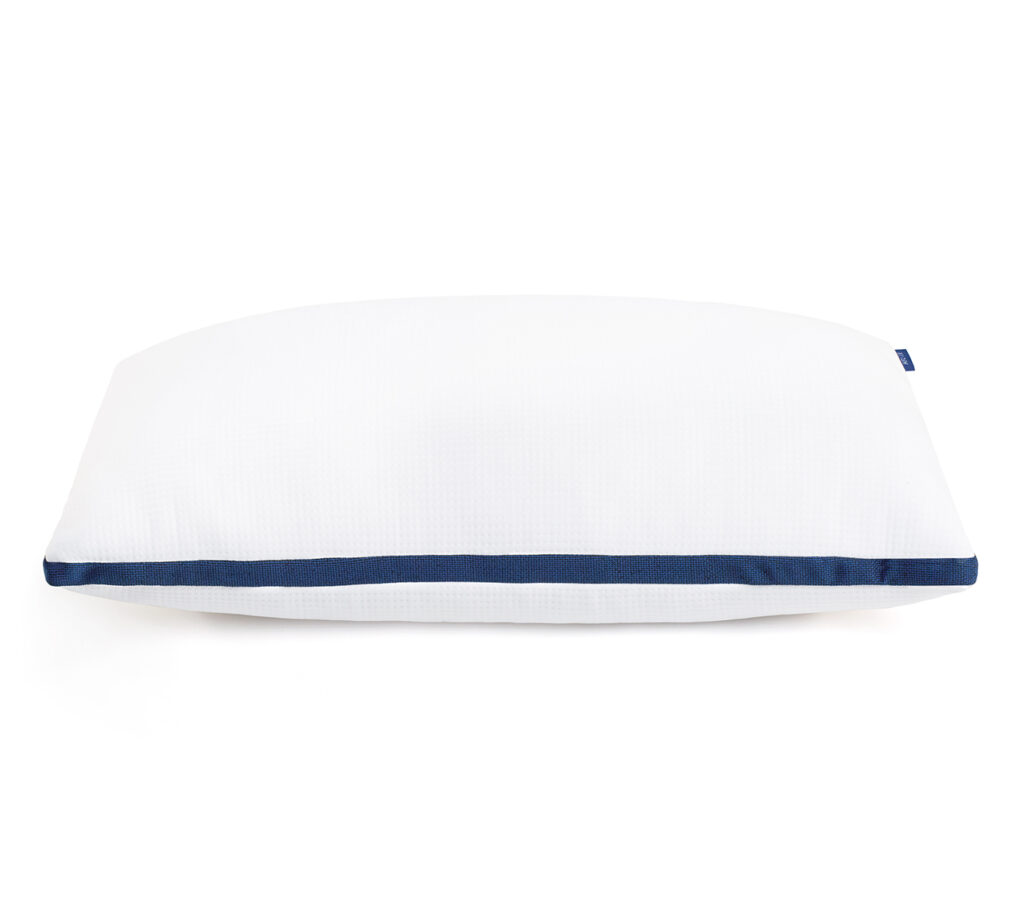 We all know about adjustable beds – but what about adjustable pillows? Bed in a box mattress companies and even traditional mattress/furniture retailers are introducing adjustable pillows.
Helix is the newest company to market an adjustable pillow. They offer both a regular and a cooling version made of memory foam and down alternative. The cooling version (Helix Cool) has a high-end ultra cool knit polyethylene fabric.
This material has a higher heat transfer, which means it is a lot cooler than typical fabrics – that's why it's cold to the touch. The Helix pillow has 2 support layers which can be kept inside or removed to adjust the height and feel.
Please note that when you shop through our links we may earn a commission.
What is an Adjustable Pillow?
We've seen smart pillows and cooling pillows (hot on the market) but we noticed a lot of adjustable pillows at the Las Vegas market.
Adjustable pillows are pillows that can be changed to fit your preference in a number of different configurations.
The loft or height of the pillow. You can make a higher or flatter pillow by adding or taking out some of the material (such as shredded memory foam) inside. The pillows unzip and sometimes have a mattress protector as part of the system.
The use of a pillow insert to change the feel and/or height of the mattress.
Usually they're easier to wash because you can remove the outer cover.
With all pillows, we recommend using a waterproof pillow protector. Your pillow is intimate. Usually you don't share it someone else. It's in direct contact with your mouth and head. If something spills on your pillow or you sweat, it's like a sponge and it will start to break down the foam. It's a lot easier to wash the protector than the pillow itself. The regular covers aren't waterproof and are made of much more expensive fabric, sometimes for cooling and other properties.
Best Adjustable Pillows in a Box
We chose these adjustable pillows for their high quality and generous warranty and sleep trials. We've found that buying a cheaper $35 pillow can end up costing you a lot more than what you paid. When you factor in sleep quality and how fast they lose their shape, clump, or flatten out, you're likely buying a new pillow every 3-9 months.
We've found that a high quality pillow that can be adjusted to how you like it will last several years.
Our favorites are
Coop Eden Pillow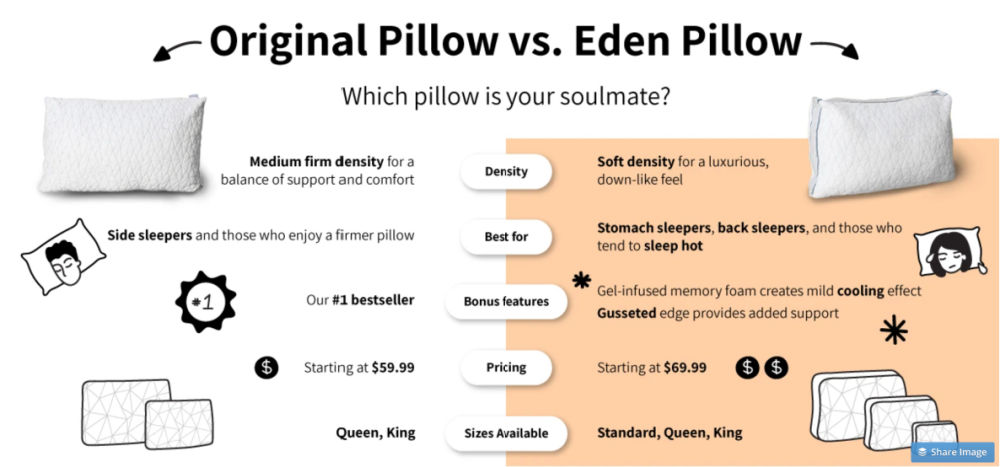 The most highly rated pillow on our list is the Eden pillow link not working from Coop Home Goods. Their pillow is amazing with all of the adjustable pillow benefits plus you can literally throw it in the wash to clean it. Another benefit is that it comes in king, which is not as common with pillow in a box brands.
You also get an extra 1/2 lb bag of fill that you can use if you want to add more height or to refresh your pillow. At our house the extra shredded memory foam gets made into pillows for my daughter's dollhouse.
Made in the USA
Cruelty-free
Hypoallergenic
Sizes
Standard – 20 inches x 26 inches ($69.99)
Queen – 20 inches x 30 inches (79.99)
King – 20 inches x 36 inches ($89.99)
Materials
Polyester liner
Viscoelastic polyurethane and polyester fill (shredded memory foam)
Bamboo-derived viscose rayon and polyester case
Sleep Trial
100 night sleep trial, during which you can return your pillow for almost any reason and get a full refund.
Warranty
The Eden pillow comes with a 5 year warranty. And it makes this pillow a great value when you think of the cost spread over 5 years. A lot of cheap pillows need to be replaced every 6 months to a year, if not sooner.
link not working
Puffy Adjustable Pillow
Their pillows used to be white and match the pattern of their mattresses with puffy clouds, but now they're gray. The cover can zip off and is machine washable. Comes in two sizes and has the longest warranty we've seen – for as long as you own the pillow.
Sizes
Standard 20 inches x 26 inches ($75)
King 20 inches x 36 inches ($95)
Sleep Trial
Puffy gives you 101 nights to try the Puffy Pillow and you can get a refund if you want to return it within that timeframe. That means if you don't like it, you're not out the money.
Warranty
Lifetime. That's impressive!
Materials
Polyester and bamboo rayon blend
Nectar Pillow
When you buy a Nectar mattress they give you 2 free pillows with it! Even if you don't buy a pillow, the Nectar pillow is worth the cost. There's only one size and it's between a standard and a queen.
Spot clean with mild soap and water, pat gently, squeeze water out and let air dry (don't machine wash).
Size
29 inches x 17 inches x 5.5inches thick ($75)
Sleep Trial
50 nights
Warranty
The only time you would have to receive replacements should something be wrong with the ones you received is within the first 50 days of ownership. So it covers defects, however they can't be stained or anything.
However, if you purchase additional pillows, you have more leeway with the warranty and you can get replacements or return for a refund within 50 days of purchasing.