Furniture Rental Online – Feather Delivers Modern Style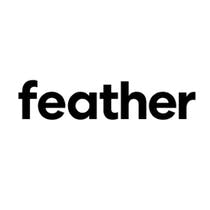 There are subscription programs for clothes, makeup, petperfume and art. What about for furniture? Instead of showing up to your home in a box, this company rents furniture online and then delivers your picks to cities in California and New York. They even set it up for you in your home.
Perfect for staging, short term rentals or if you want a gorgeous home that you get now and pay by the month for.
Check Feature's website to see if it's in your area.
Forget tacky furniture rental stores or services with outdated styles. Feather carries modern furniture and from popular brands such as West Elm, Pottery Barn, Leesa Mattress, Floyd Bed Frames, Fully, and Herman Miller.
Maybe a bedroom set with a mattress included. Have you heard of that? Feather is a subscription-based furniture rental and rent-to-own home furnishing service.
If you've ever been to a furniture rental place, you don't get much selection. Their inventory is usually dated, tired looking and worn out. There are no modern styles or colors to choose from. It's not a place I want to find my furniture! That's why I'm hoping that Feather expands to more cities.
We may earn a commission when you shop through our links.
Feather offers flexibility, affordability and high style. This is a service for decor enthusiasts who want fresh, modern designer-style furniture without the hefty price tag or long-term investment that you normally accompany get when you buy designer interiors.
UPDATE: New cities added! Here's the complete list:
NYC Area: Manhattan, Bronx, Queens, Brooklyn and Jersey City
Bay Area: San Francisco and Oakland
LA: Los Angeles and Orange County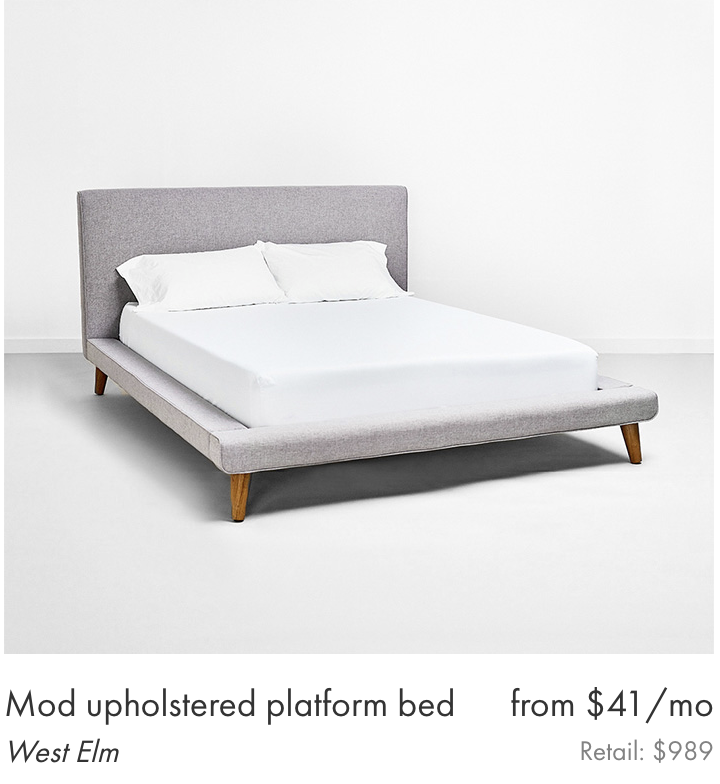 Online Furniture Rental in Francisco, Los Angeles, New York City and Orange County
If you ever need temporary furnishings, like to stage your home, get a bed frame or even a mattress, and you live in the areas they service, check out Feather. Right now Feather delivers to larger cities like Orange County, Los Angeles, San Francisco and New York City.
You can rent furniture for 3 months (minimum) or for as long as you want to pay for it but you get it delivered and set up in your condo, home or apartment right away.
Just like a furniture rental place, you rent furniture for however long you want it and then return it. Many items are new or only lightly used because many customers choose the buy out option and rent to own. Plus Feather keeps on top of modern furniture trends and are always bringing in new products to keep up with the changing trends and the demand. So most of the time you're getting brand new or almost new product.
And if you decide you don't like something, you can just return it and swap it out for something else. Members can change their space anytime and Feather does the heavy lifting for them at just $99 per trip.
And how stylish is this room air conditioner?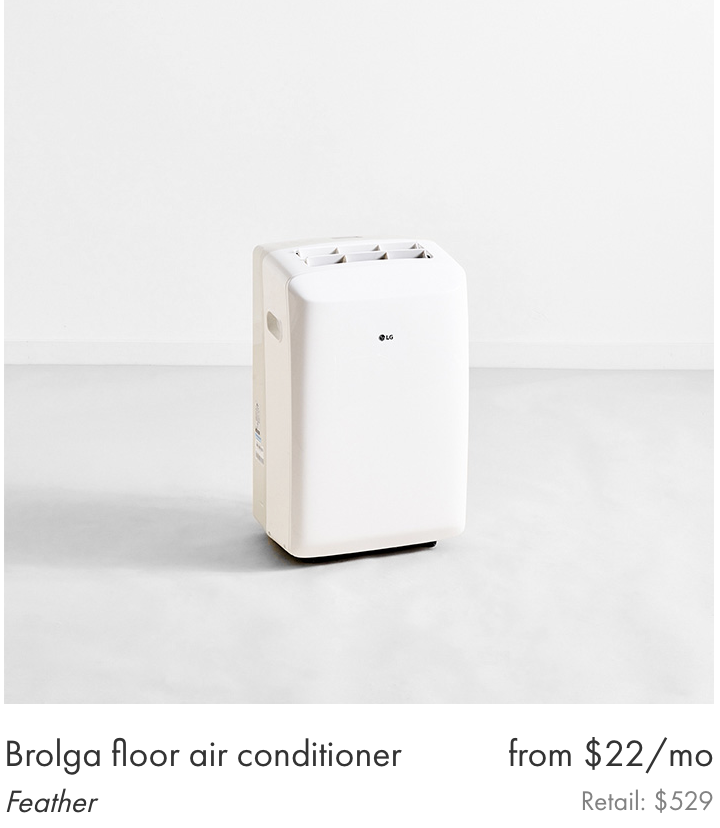 Rent a Mattress, Bedroom Set, Sofa Sleeper and More
Feather means your place will look hip and modern without having to go to a store and buy everything. There's not the large up front cost. Plus they deliver and set it up for you. It's like a subscription box for furniture! Right now Feather Leesa mattresses. Mattresses are always new as of Dec 2019. They are donated after use/return if not purchased.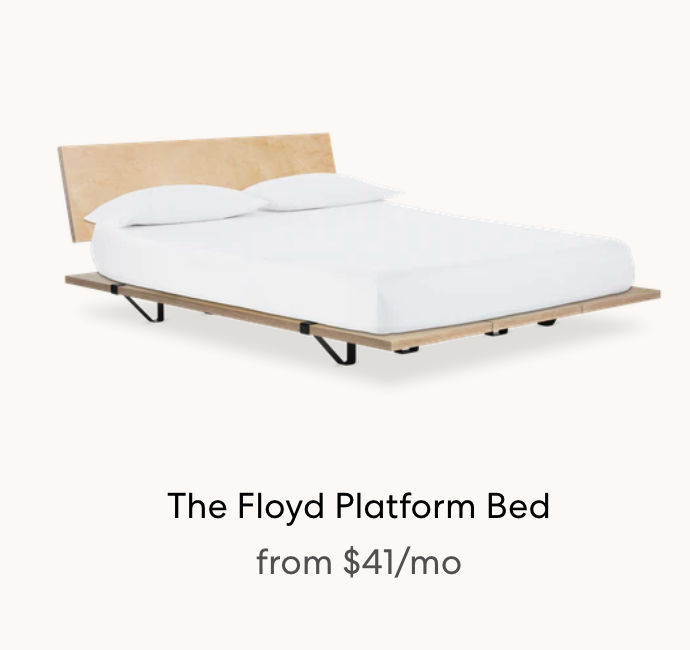 Brands include West Elm, Floyd and Feather's own brand (they keep adding new inventory).
Here's how Feather works:
Feather delivers and assembles the products free for subscribed members, or for a low flat rate fee of just $99 for non members. View the side by side comparison of member vs non member benefits in the graphic below.
Membership is just $19 per month and with membership, monthly per-item or per room furniture prices are drastically reduced. Monthly costs go towards owning the item unless the customer prefers to swap it out. The choice is theirs. Or, you can purchase your items. But you won't have to invest thousands of dollars to have your room look put together and in style. And, if you plan on moving a lot, you don't want to move heavy furniture every time.
Look at the modern designs and choose what you want to rent on their website Feather.com
Decide to become a member or nonmember. Members get lower prices on all Feather furniture and one free furniture change (swap, add, or return) each year. Or nonmembers can rent items and will never pay full retail once it's paid off.
Items you choose get delivered and set up at your house (if you're a member, otherwise for a $99 fee).
Keep it or return what you rent after a year. Members can swap out something one time per year.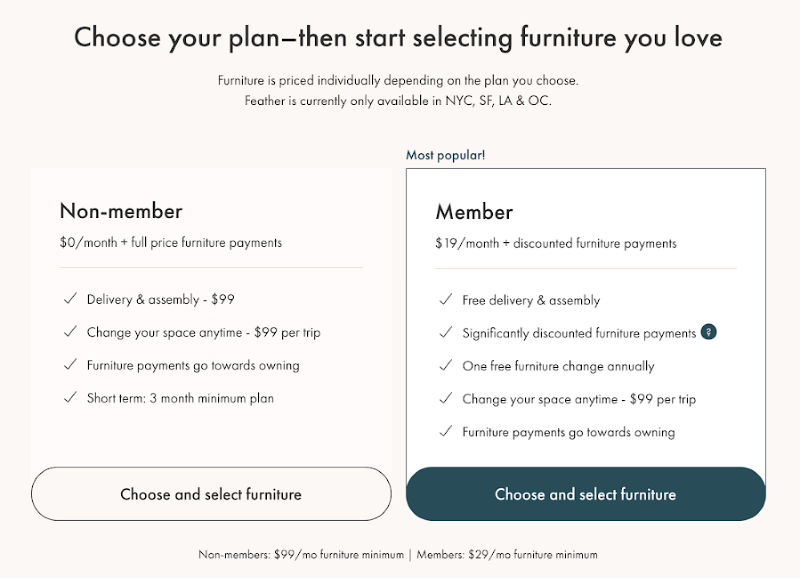 Member plans last 12 months. When your plan ends you can:
(1) Renew your membership, keep paying $19/month + the cost of your furniture items (and qualify for an additional free furniture change).
(2) Keep paying for your furniture items month-to-month at the same price in addition to the $19 monthly membership cost. You won't get a free furniture change in this month-to-month plan.
(3) Buy out your items! Your monthly furniture payments will go towards purchase (not exceeding the regular retail price).
(4) Return your items for a $99 pickup fee.
Who Should Use Feather?
Renters who want to have a fully furnished, stylish apartment and everyone splits the cost but doesn't have to do the work.
Someone who moves to LA, San Fransisco or New York who sold or left furniture behind and is starting over. Instead of coughing up money up front to furnish a home, you can get it all now and pay monthly.
Great for shorter term needs when you can't move all of your furniture (like you're building a new home, just moved in and don't have a permanent place, short term housing, etc).
You have a long term (3 months or longer) guest and need a place for them to sleep but don't have a lot of space (get a sofa sleeper that turns into a bed, for example).
Pin on Pinterest: