Black Friday Mattress Deals 2021 – Best Sales!
Black Friday Mattress Deals 2021
Black Friday and Cyber Monday Mattress deals 2021! This year with COVID causing materials shortages and longer shipping times, and higher prices. So you really need a sale right now and you need to order sooner than usual if you want your mattress here by the holidays. It also means the Black Friday Mattress deals have already started.
When is Black Friday? Black Friday is Friday, November 26, 2021 and Cyber Monday is Monday, November 29 but the deals are here now. And almost every company on this list offers fast, 0% interest financing so you can get your mattress now but pay a lower monthly payment.
If you need a new bed for the guest room or your mattress is sagging, this is one of the best times of the year to buy a mattress. We will continue to update this list as Black Friday deals come in. Please bookmark this page and check back. Click the buttons to get sizes, styles and prices.
Unbox Mattress may earn a commission when you shop through our links. And you may get better sleep.
List of Black Friday Mattress Deals
Here's our list of Black Friday Mattress Sales. At the end of the mattress list we have listed baby mattresses, protectors, sheets and bedding deals.
Allswell Mattress
Can't beat the price and although not well known to a lot of people, I tried one out at a mattress store and was impressed by the quality. But most of it, it's so comfortable.
Thanksgiving Promotion: 20% off sitewide using our link and code THANKFUL
Offer valid: 11/9/2021 – 11/23/2021 at 11:59pm PST

Thanksgiving Offer T&Cs:
*Offer expires 11/23/21 at 11:59PM PST. Offer subject to change or cancellation. Void where prohibited. Cannot be combined with other promotions. Does not apply to previous purchases.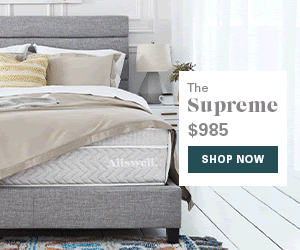 Avocado Green Mattress
Take advantage of huge savings on award-winning mattresses, heavenly mattress toppers, real wood bed frames, and luxurious pillows — all made with the finest certified organic, natural, and sustainable materials.

CERTIFIED ORGANIC, made in Los Angeles, 1 year return window, 25 year warranty.
Offers good until Monday, November 15, 2021
$150 off all Green & Latex mattresses
CODE: ORGANIC

$350 off the Organic Luxury Plush Mattress
CODE: EARLYBF

$50 off the FSC Certified City Bed Frame
(no code needed)

30% off the Dog Bed Frame and Organic Dog Bed + Pillow Bolster Bundle
(no code needed)
Get up to $350 Off
Bear Mattress
Bear Mattress Black Friday Sale 2021
$748 Exclusive Offer Plus FREE Gift Set*
Up To $498 Off Hybrid Mattress
FREE Cloud Pillows (up to $125 value)
FREE Sheet Set (up to $125 value)
Use code BF25 at checkout
Get 20% Off Everything
BedInaBox® Mattress Sale
BedInABox® mattresses are higher quality foam and hybrid mattresses. Made in the USA.
Photo is the Bedinabox Original Mattress. See our review of the Bed Original Mattress on YouTube.
Black Friday sale details to come.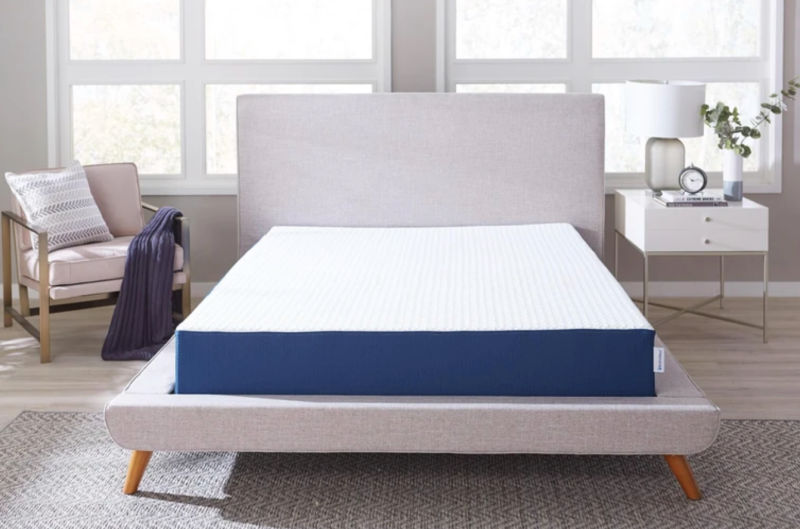 Check website
Brentwood Home Mattress
Up to $200 OFF SELECT MATTRESSES, 20% off yoga pillows and pet beds!
Check the site for all the Black Friday deals from Brentwood Home!
Made in the USA, with a full year sleep trial and a 25 year warranty. Plus their beds are GORGEOUS.
Save up to 30%!
Brooklyn Bedding
They have the best shredded memory foam pillow we've tested. Still like new after over a year. We even give them as Christmas gifts!
Made in the USA.
Casper
BLACK FRIDAY SALE
Save up to 20%
20% savings with bundles
15% off mattresses
10% off pillows, sheets, and more*
Cocoon Black Friday Savings
Cocoon by Sealy Black Friday Sales – Get 35% Off the Chill Memory Foam Mattress & 35% Off the Chill Hybrid Mattress. Comes with FREE Pillows + FREE Sheet Set!
Cocoon's premium Chill Memory Foam mattress adapts to your unique body size, shape and sleep position. Hot sleepers will want to look at the Chill Hybrid mattress with Active Support Technology and offers more targeted support for your body. The fabric encased coils transfer less motion without noise.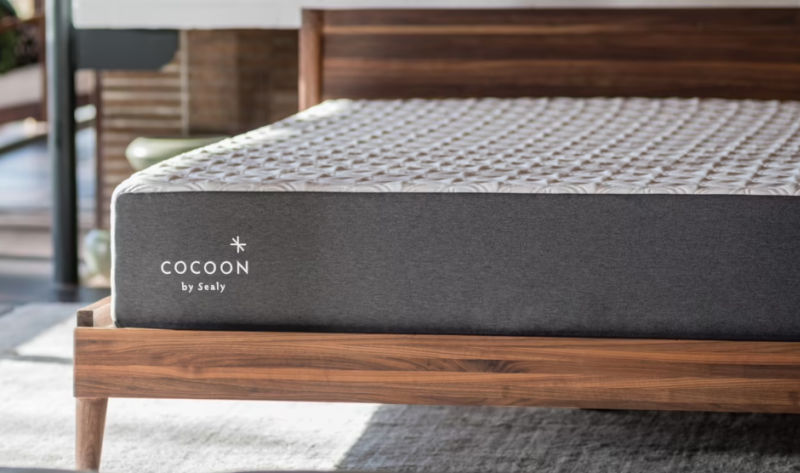 Get 35% Off FREE Sheets + FREE Pillows
Dreamcloud Mattress
Dreamcloud is a dreamy bed that's thick, luxurious and very well made. Recently revamped to be medium firm (read about Dreamcloud changes here).
1 year return window, forever warranty.
Black Friday Deal $599 Special Offer! – $200 Off + $399 In Accessories Included!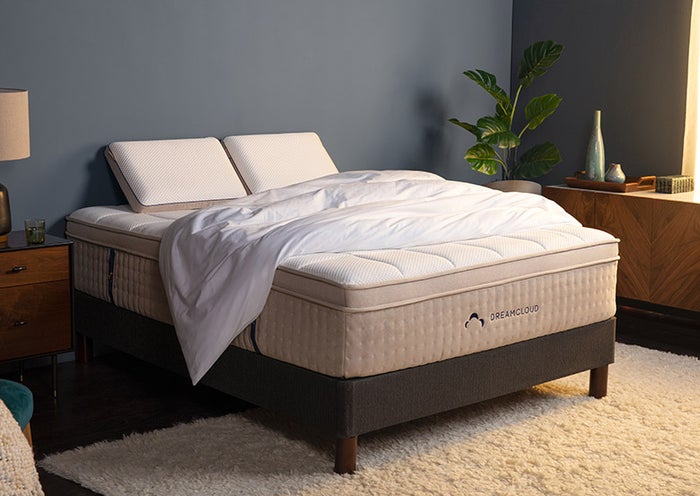 $200 Off + $399 In Accessories
Eco Terra Mattress
Nature's Secret For Deep Comfortable Sleep! The Eco Terra Mattress has the wonderful feel of luxurious, soothing natural latex, plus the supportive and motion-isolating function of individually wrapped, fabric-encased coils, to provide you with the most comfortable night's sleep.
Watch our Eco Terra mattress review here.
$150 off mattresses with code BF150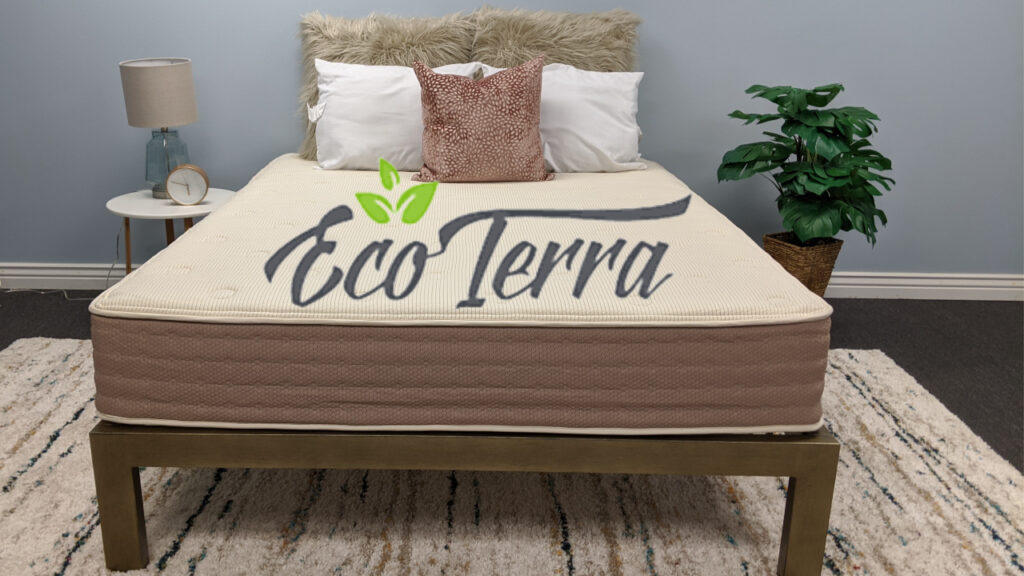 Ecosa Mattress
Ecosa Black Friday Sale – 25% off everything.
Ecosa mattress has a top layer can be changed around so it can go from medium to firm or extra firm. The mattress cover itself is waterproof to protect the mattress from bacteria and dust mites.
I would still want a mattress protector over the top because it's protecting the foam, under the cover. However, germaphobes will love the idea of an extra layer to keep your mattress clean.
If you don't love memory foam feel, sink or heat and prefer a more firm bed (I thought even the medium was firmer), this is a good choice for you.
Didn't sleep warm.
10 inches thick all foam mattress.
Ecosa also has an adjustable height ergonomic pillow and a silk pillow case. The Ecosa pillow comes with a compression bag to suck out all the air so you can bring your pillow with you anywhere. Fits in a suitcase.
Eight Sleep
Eight is a high tech mattress with a lot of incredible features. You can cool or warm your bed, get sleep coaching and invest in your health.
Eight Sleep members see results in less than three months:
32% faster sleep onset
20% more deep sleep
40% fewer wake-ups
The Pod is the complete system with a mattress, Room Climate and Weather Response, GentleRise Wake Up Technology that wakes you up gently with temperature changes, Heart Rate Variability monitoring and a Daily Health Check report.
The Pod Pro Cover gives you the benefits of a Pod but it fits over your existing mattress.
Eight Black Friday Sale – $200 off the Pod Pro Cover, $500 off the Pod Pro Mattress. Financing starting at $45 a month.
$500 off Eight Pod Pro Mattress
Ghostbed Mattress
Made in the USA and best deal for an adjustable base and mattress! If you have wanted the extra comfort and ability to fall back asleep or relieve back pain or acid reflux, you will want an adjustable base.
30% Off Mattresses + 2 FREE Luxury Pillows ($190 Value)
40% OFF 15 Dual-Massage Adjustable Base & Mattress Bundles
25% OFF Accessories: Pillows, Sheets, Silk Pillowcase Weighted Blanket, Protector & Toppers
Ghost Smart Bed 3D Matrix – Up to $2,000 Off + 2 Free Luxury Pillows (a $190 Value) Like a high tech sleep number type bed that you can adjust to your perfect feel.
No coupon code required. Available until 12/3/21.
BUY NOW PAY LATER
New Mattress Financing Deal with Affirm 0% APR up to 5 Years
GhostBed has the exclusive financing deal with Affirm to get an affordable luxury mattress for a super low monthly rate.
Under $3k = 1 to 3 year as low as 0% APR
$3k+ minimum purchase = 4 year as low as 0% APR
$4k+ minimum purchase = 5 year as low as 0% APR
High Bad Credit Approval Rate with Affirm
From now until 12/3/21, GhostBed will be able to offer a really high approval rate for bad credit to no credit with Affirm.
Same rates as low as 0% APR financing and up to 5 years.
NEW GhostBed RV Mattress Coming in December
New RV mattress available in Short Queen & Short King. Launching soon for pre-orders. Shipping out Dec 3rd in US & Dec 8th in Canada.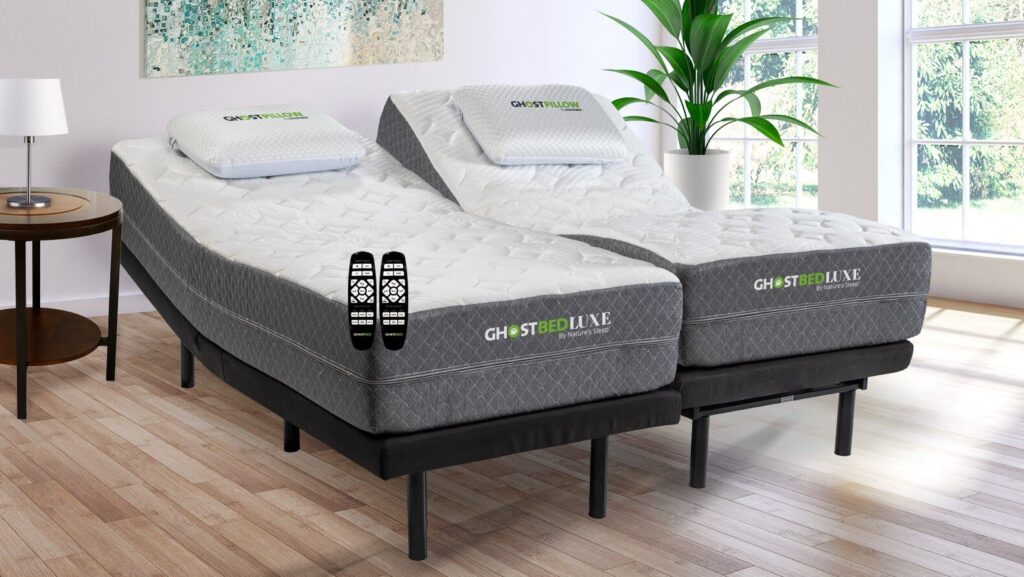 Save up to $2,000 on a SmartBed get Financing Deals
Gravity Blankets and Mattress Black Friday Sale
Save 20% off EVERYTHING.
Gravity is offering 20% off sitewide. Use it to buy their Gravity weighted blanket, Gravity Ice Hybrid mattress or any of the bedding. When I let a friend try the Gravity mattress, she fell for it instantly. She has a crowd at home and it can get too warm to sleep. She loved how it's cool to the touch.
I LOVE their weighted eye mask because it helps me sleep longer and deeper. Best stocking stuffer for the insomniac in your life!

BONUS: You can monogram a blanket or eye mask with custom thread stitched initials. Perfect for gifts! Or for finding your eye mask you accidentally left on the plane or hotel room.
Helix
Highly customizable hybrid mattresses with many models to choose from. Take the Helix mattress quiz to find the perfect firmness and type for you.
The Luxe versions are hybrids. They feature a higher quality, thicker cover and extra 2 inches in height. Worth it in my opinion (unless you're buying for a child or someone who doesn't need/like the height). The non-Lux versions are all foam.
The Helix Midnight Luxe is their bestselling mattress. To learn more, watch our Helix Midnight Luxe review on YouTube.
HELIX BLACK FRIDAY SALES
$100 off any mattress, use code BFSALE100
$150 off orders of $1,250+, use code BFSALE150
$200 off orders of $1,750+, use code BFSALE200
Plus 2 free Dream Pillows with every mattress order!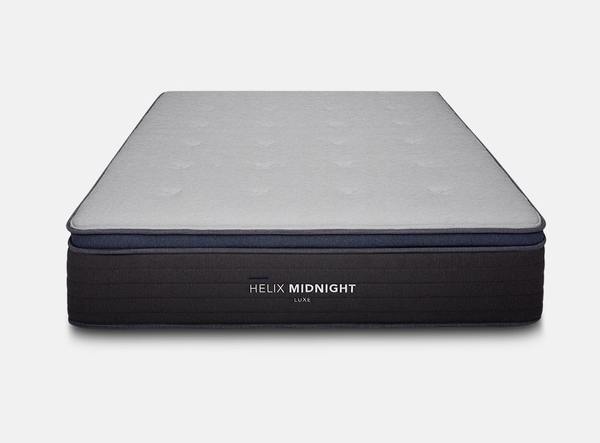 Up to $200 Off + 2 Free Pillows
Keetsa
15% off on all Keetsa mattresses and bed frames!
Save up to $517 when mattress and frame purchased together.
Take 15% off a Mattress or Bed Frame!
Latex for Less
$175 Off Mattresses Using link below and Code BF175
Layla Black Friday Deals
Layla is a memory foam bed that's soft on one side and more firm on the other – plus it's copper infused for its antimicrobial properties. They also have a flippable hybrid mattress.
We love the Flippable Layla hybrid – you decide to sleep on the softer or medium part of the bed.
Discounts automatically apply at checkout
BLACK FRIDAY EVENT! SAVE BIG ON BUNDLES + UP TO $200 OFF MATTRESSES
Luma Mattress Black Friday Deals
20% off all mattress systems and a great deal on financing.
Get up to 0% APR Financing FROM 24 MONTHS WITH AFFIRM (when you qualify).
Luma mattress top layer can be exchanged free of charge to get the perfect feel for you. Made in the USA with latex. The toppers are luxurious too!
Luma carries bed frames, sheets, pillows and more. So you can buy now and pay later.
Luma Mattresses Feature:
Interchangeable Talalay Latex layer for customize-anytime comfort.
Free comfort layer exchange in the first year.
Deeply supportive, base mattress feature pocket coils or Dunlop latex.
No cheap foams, fillers or mystery ingredients.
Naturepedic Black Friday Sale
Award winning natural sleep products for adults, baby and kids. If you're interested in organic nontoxic mattresses and bedding with all of the certifications, this is it. Greenguard, GOLS, GOTS and more. See full list of certifications, here. Featuring thicker, luxury pillow top mattresses and a wide selection of nontoxic sleep products.
Very popular and great customer service since 2003.
If you have an oval baby crib, Naturepedic has oval baby mattresses to fit in them, too. Take 20% off so you can get sheets, pillows, protectors and everything you need at an incredible price.
Nectar Mattress Black Friday Sale
They say it's the season for napping and Nectar is a great memory foam mattress for that!
Take $125 off any mattress purchase PLUS get two free Nectar pillows ($275 value) for Black Friday.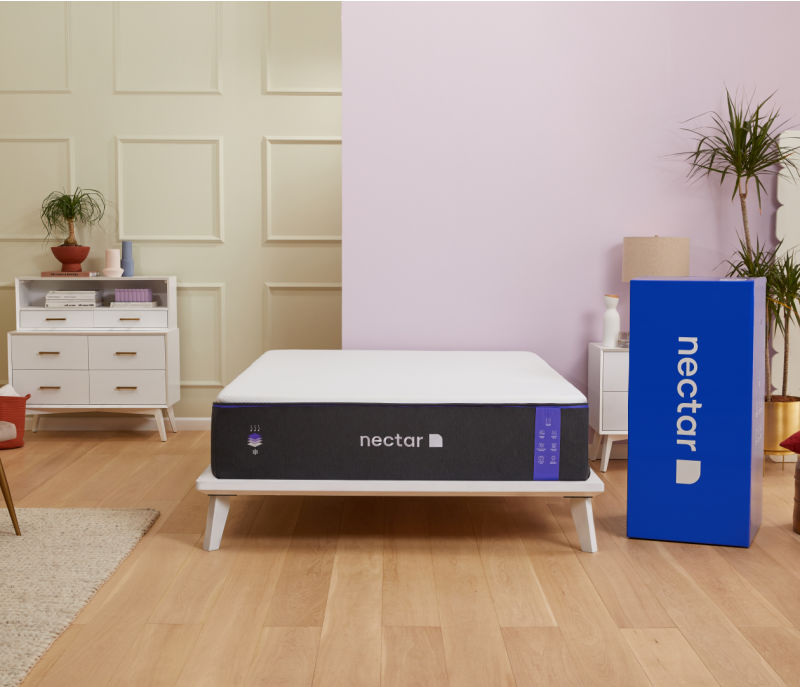 Nest Bedding
Made in the USA, with several models to choose from.
Nest Bedding Black Friday Sale

Save 20% on the Sparrow, Owl, Finch, and Certified Organic mattresses.

Organic cotton luxury bed sets, 100% bamboo luxury bed sets, and luxury TENCEL™ sheet sets.
Save 10% on the Quail, Robin, Puffin, Lark, and Certified Organic Crib mattresses, and Furniture.
*No coupon code is required.
Bundle & Save
Purchase a select luxury mattress and receive a FREE luxury Sheet or Duvet bed set of your choice.
COZYBUNDLE savings applies to organic cotton luxury bed sets, 100% bamboo luxury bed sets, and luxury TENCEL™ sheet sets when a qualifying luxury mattress and sheet or duvet set are added to cart.
*EXPIRES 12/13/2021
Nolah Mattress
Nolah has all foam mattresses that are medium firm and a new Evolution hybrid that's 15″ thick. To learn more about the foam Nolah Mattress, read our Nolah foam Mattress Review.
Nolah is a brand many people haven't heard of but are pleasantly surprised at how comfortable they are! I sold one to a couple who ran an Airbnb but loved it so much they decided to get one for themselves.
Evolution 15″ Mattress
Up to $700 Off + 2 Free Pillows ($198 Value)
Starting at $1,099 | Was $1,799
Signature 12″ Mattress
Up to $300 Off + 2 Free Pillows ($198 Value)
Starting at $849 | Was $1,099
Original 10″ Mattress
Up to $250 Off + 2 Free Pillows ($198 Value)
Starting at $499 | Was $649
Natural 11″ Mattress
Up to $600 Off
Nurture 10″ Mattress (Kids)
Up to $500 Off + 10-Year Protection Plan for Only $0.01 ($139 Value)
Starting at $999 | Was $1,499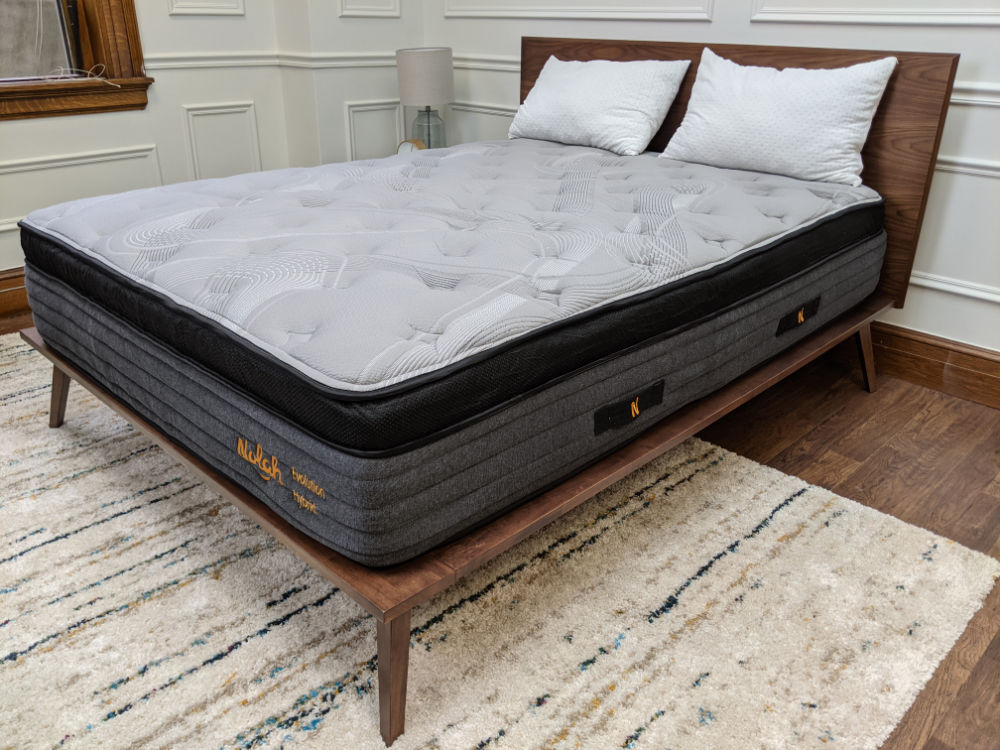 Novilla Mattress Black Friday Sale
20% off EVERYTHING.
Novilla is a budget brand that delivers high value. We like their mattresses, mattress topper, mattress protector and pillows.
The cover is the same on all of these products. It's thicker and good quality. I really like it. Now you can get an additional 20% off already excellent prices.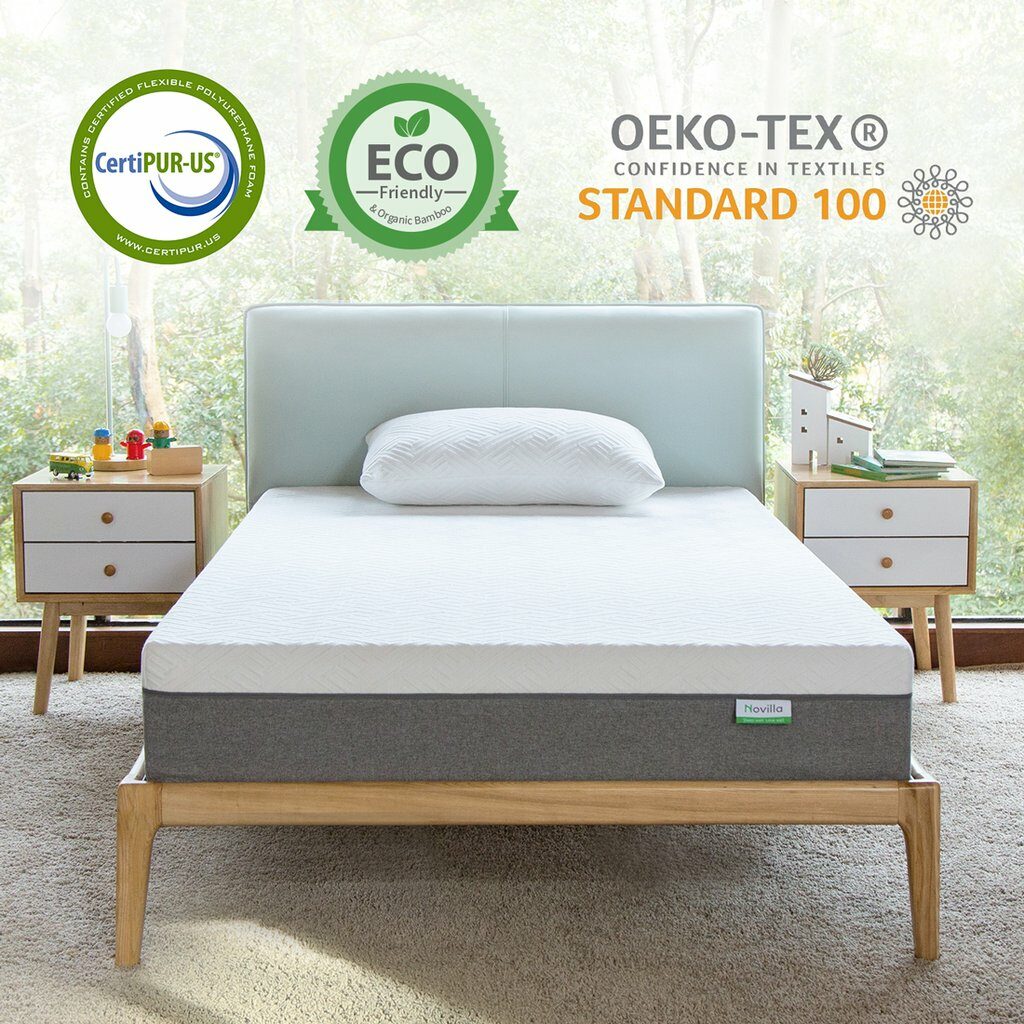 Novosbed
Black Friday Sale not yet announced.

Molecule Mattress
Molecule Mattress Black Friday Sale. Up to 30% off site wide with code BIGSALE, including 30% off best sellers. Including sheets, mattress toppers, pillows and comforters. 1 YEAR return window.
Choose your FREE sheets in these colors:
White
Ivory
Powder Blue
Cloud Grey
Molecule could be called the most sanitary/clean mattress surface. So if you sweat a lot or are a germaphobe, this mattress is perfect for you.

MOLECULE 2 AIRTEC MATTRESS WITH MICROBAN
4.7 star rating

*Microban® antimicrobial product protection is not intended to control disease pathogens.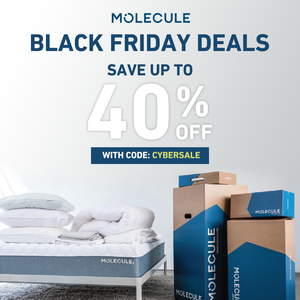 Plushbeds
Early Black Friday Sale
Luxury mattresses made in the USA.
$1,250 off all bedroom mattresses + 2 FREE Pillows +FREE Plush Luxury Sheet Set +FREE Mattress Protector!
* With every bedroom mattress purchase.
Items added to cart automatically.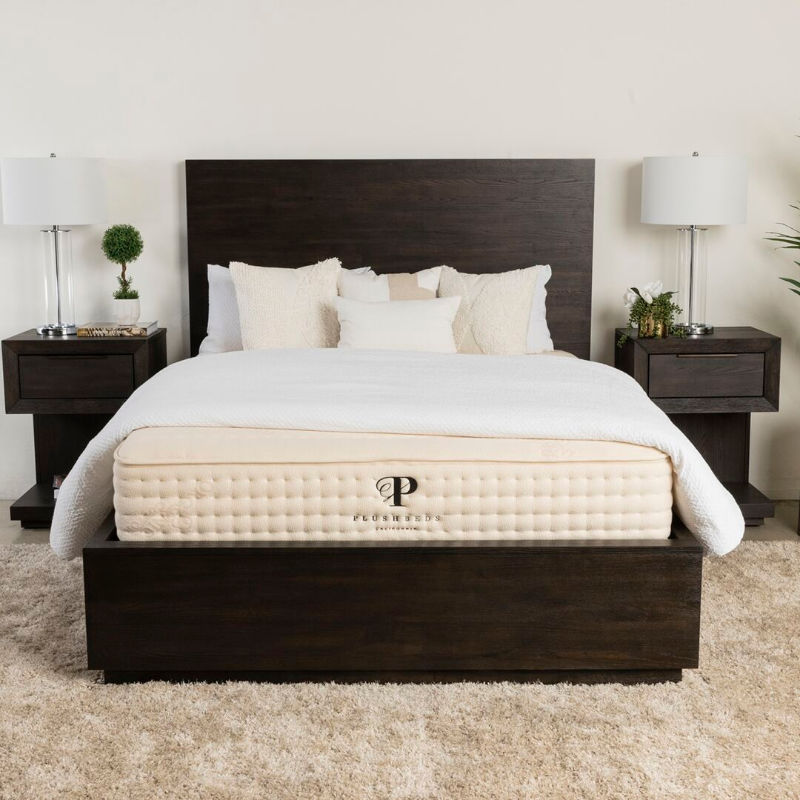 Get $1250 Off Organic Mattresses + Organic Cotton Sheets
Purple Mattress Black Friday Deals
Purple is the flexible, comfort grid top, comfortable, no memory foam bed. You won't sleep hot because there's airflow built into the mattress.
The Purple Premier 3 with 3 inches of GelFlex is our best pick. As for pillows, The Purple Harmony.
Experience the instantly adaptive comfort of the Purple GelFlex™ Grid with savings on a select mattress + bundle for Black Friday.
This is the mattress I sleep on and LOVE. It took me about a month to adjust but that was over 5 years ago now…
Want to learn more? Read our Purple mattress review. We also reviewed the Purple SoftStretch sheets which are stretchy and go best with your Purple mattress.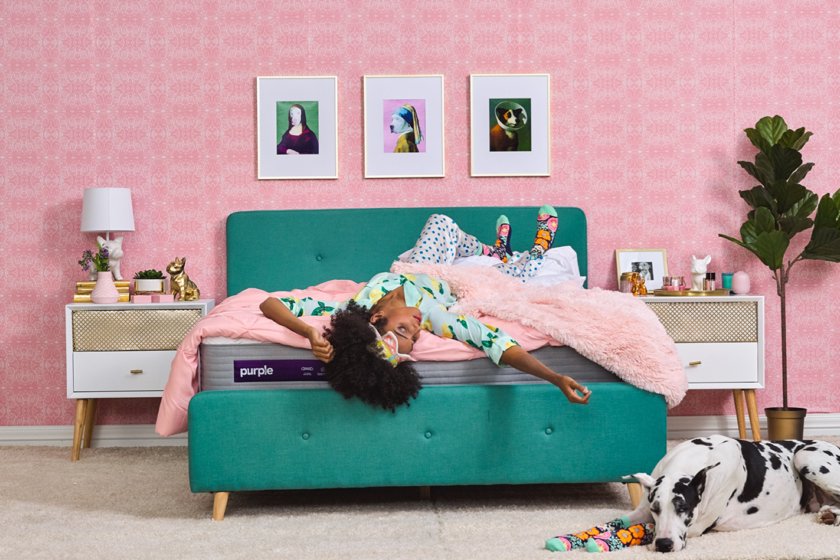 Sweet Night Mattress Black Friday Sale
The Sweet Night Black Friday Sale is live! It will continue through November 28, 2021 and provides discounts of up to 40%, as follows:
40% OFF Tranquil Adjustable Beds
Up to 25% OFF Bundles
25% OFF + 1 FREE Original Standard Pillow with Toppers
20% OFF Mattresses, Pillows, and Mattress Protectors (code SNBF)
See our Sweet Night Twilight Review on YouTube. This is a GREAT VALUE mattress – and get 5% off with code UNBOX too!
Sweetnight is a budget brand with solid quality / high value.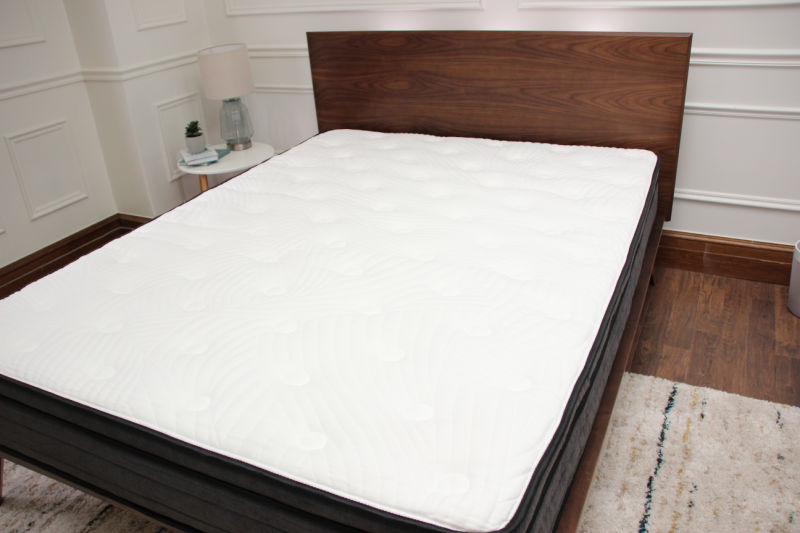 Sleep EZ
Latex Mattress Factory Since 1976. What makes them unique is you can turn over the mattress and sleep on either side. You can even make each side a different firmness. They also have a natural latex pillow top hybrid mattress.
$500 OFF MATTRESSES & 2 Free Pillows and a Mattress Protector! On select models. New orders only.
Plus 20% OFF TOPPERS!
Sweet Zzzs Mattress
Check website.
Shop Sweet Zzz
Tempur-Pedic
Lots of incredible deals for anyone who loves a soft Tempur-Pedic.
Invented for NASA, TEMPUR® material was perfected for the most comfortable sleep on earth.
Featuring a new formulation of TEMPUR® material designed for ultimate comfort and seamless shipping.
Unmatched support with up to 40% more pressure-relieving power than other compressed mattress brands.
TEMPUR-PEDIC BLACK FRIDAY SALES 2021
Save 40% Off the TEMPUR-Essential Mattress (11/19 – 11/26)
Save 30% Off the TEMPUR-Cloud Mattress for Black Friday!
Sale ends NOV 27, 2021 00:00:00 (EST)
Yogabed
Black Friday/Cyber Monday Sale- Not yet announced.
Yaasa
Not yet announced. Check website. Yaasa has the BEST blankets and weighted blakets. So many incredible colors. Gift worthy and GORGEOUS.
Zinus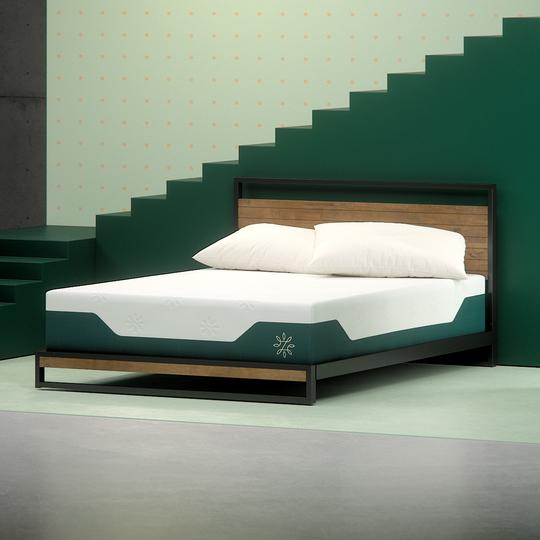 Zinus is a manufacture that sells their own mattresses, bed frames, and bedding products. They have been selling their items through top US retailers (Amazon, Walmart, Target, Wayfair, Overstock, Sears, Sams Club, etc) for the past 20 years. Some of their bed frames are listed as #1 best seller on Amazon.
They're known as a value brands. Right now save 60% on select mattresses now until December 2nd. And save 20% off everything else site wide. It's the best Black Friday deal on a value mattress.
Baby Mattress Black Friday Deals
5 Little Monkeys
5 Little Monkeys is offering special pricing on their Sleep System for Black Friday / Cyber Monday! Your bed comes with a mattress, pillow and mattress protector. While advertised as a kid bed, it's good for any age with very reasonable prices.
Black Friday Cyber Monday Sale! $250 Off Mattresses + FREE Pillow and Protector!
Get $200 Off, FREE pillow + FREE
Newton Baby Mattress
The most unique safe, breathable, waterproof baby mattress. See our Newton Baby Mattress Review.
20% Off a Baby Mattress AND 20% off EVERYTHING
Promo code: No code required
This is HIGHLY unusual to see Newton Baby Black Friday sales to include everything. Their mattress covers are AMAZING. You can truly breath through them. The mattress itself is made mostly of air and yet is highly supportive and breathable. Your baby won't get sweaty at night and will be safe with Newton.
Bedding and Accessories on Sale
BedJet Black Friday Sale
$200 Off NEW BedJets. Up to 35% off EVERYTHING ELSE.
BONUS OFFER
Take an extra $50 OFF any Dual Zone System for Couples!
At checkout, enter promocode EARLY50
Expires 11/26/2021
What is a BedJet? BedJet is a cooling, warming, sweat-drying climate comfort system. It blows cooler or warmer air inside the covers (or Cloud sheet which has air pockets).
We recommend that you get a Cloud sheet to evenly distribute the cooler or warmed air inside your bed. If you get 2 and a Cloud sheet then you can have different temperatures for each side of the bed.
Or you can get just 1 BedJet and one side of the mattress will be heated or cooled while the other side stays unchanged. Use the app to set the temperature at different times during the night.
Ideal for couples who have very different sleep temperature preferences. Or for menopausal women who have heat flashes.
Buffy Black Friday Sale
Running now (11/27), new customers save 20% Off all Buffy products. Use on Buffy comforters, sheets, and pillows that are earth-friendly, skin-friendly, cruelty-free, and super-soft! Made with no bleach or natural dyes.
We prefer The Breeze comforter over the Cloud. While the Cloud is made with recycled water bottles, we found it slept quite warm. The Breeze is made from natural eucalyptus.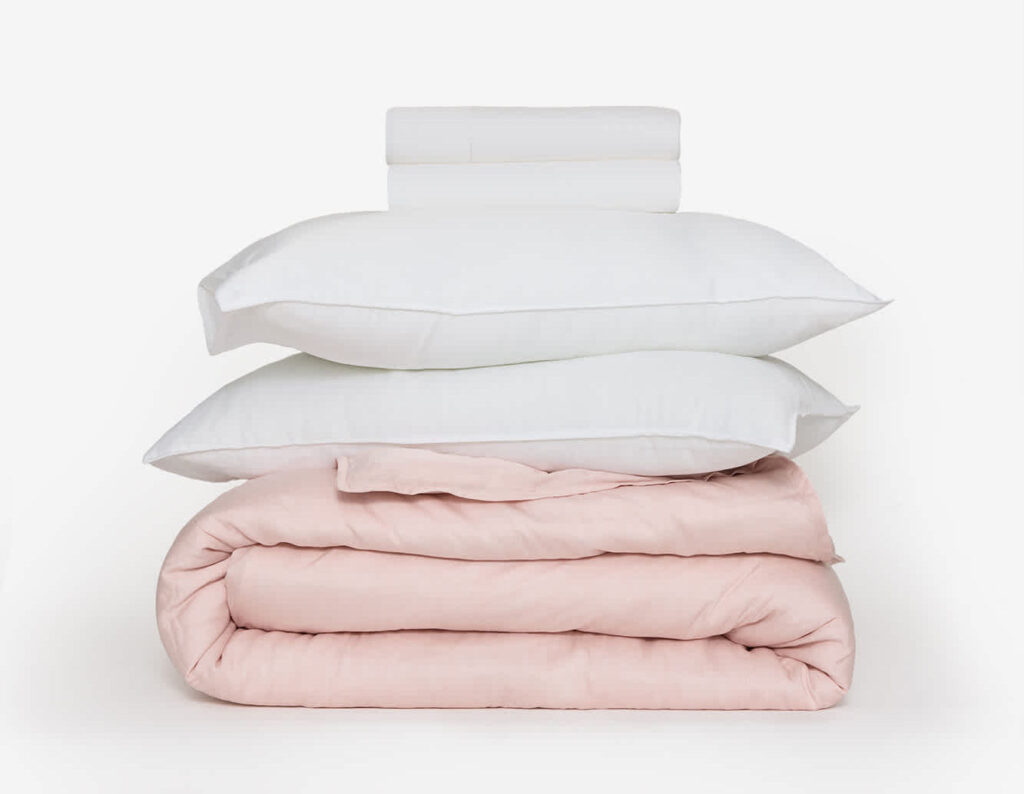 Chilipad Black Friday Sale
Mattress pad that heats or cools your bed to your desired temperature. Works with water that goes through a heating or cooling unit and then to the pad in small tubes.
Coop Home Goods
If you want an amazing new pillow or a specialty pillow, a mattress protector, topper or other bedding – Coop is wonderful!
The Coop Flip Mattress Topper has a durable cover and you choose the softer or medium side. Too soft? Flip it over to the medium. Too firm, turn it to the soft side.
We prefer the Coop Eden pillow with adjustable height with an extra 1.5 lbs of shredded memory foam to add extra fluff or height as needed (or remove foam for a flatter pillow height). High quality and I've had mine for years now.
This is one of the best sales we've seen from Coop.
SHOP COOP HOME GOODS NOW WITH CODE FRIYAY — 20% OFF PILLOWS, 25% OFF BEDDING, AND 30% OFF SUPPORT PILLOWS
Watch our Coop Home Goods Mattress Topper Review.
Pacific Coast Bedding and Pillows
Classic brand with real feather pillows. Make a beautiful gift. 30% off select bedding items. See Pacific Coast website for details.
Pillow Cube Black Friday Sale
Pillow Cube sells unique square and rectangle pillows made of 100% antimicrobial memory foam specifically for side sleepers. Their Black Friday sale starts now and runs until 11:59 PM (MST) 11/30/20.
USE PROMO CODE "BFCM" FOR 20% OFF ANY PURCHASE.
Sheets & Giggles Black Friday Sale
The sheets with the funny name are on sale for Black Friday, Nov. 270-30, 2020. Get 15% off + 15% will be donated to your charity of choice (selected at checkout). Also, they have bright red sheets, which we don't see very often. Also blankets and duvets.
Made from water and energy saving eucalyptus and lyocell. Promised to be soft, cool and moisture wicking.
You have to love this about Sheets and Giggles. Their eucalyptus sheets is made from eucalyptus that isn't harvested from ancient or endangered forests. Rather, they source from their own sustainably-managed and biodiverse farms in India and Bahrain.
For every single order they receive, they plant a new tree somewhere in the US that needs reforestation – 20,000 trees planted in the last year alone. And if you send in your old sheets they'll donate to a homeless shelter and you'll get 10% off.

SOL Organics Bedding
35% Off on all Luxury Organic Bedding. Apply Code FRIDAY19 at Checkout. They carry organic linen, sateen, and percale sheets, comforters and more.
Slumber Cloud #1 Cooling Bedding
The Slumber Cloud Black Friday Sale is here! Save up to 35% OFF!
Slumber Cloud uses material NASA spacesuits uses to create bedding. Each piece of Slumber Cloud bedding works in unison to control the microclimate of your bed to reduce heat and moisture buildup and cool down even the hottest of sleepers.
The space age Outlast® technology built right into each product automatically absorbs, stores, and releases heat as the temperature under your covers changes to help you make the most of your sleep. Scientifically proven to outperform traditional bedding, this bundle combines multiple products together into a "sleep system" for maximum performance.
60 Night Money Back Guarantee
60 Night Trial
They also have heavenly names.
Nacreous Mattress Pad
Pileus Pillow Covers
Status Sheet Set
Cumulus Comforter
Is a sleep product on your Black Friday list? Let us know what you're pining for in the comments.